20 April 2013
That was first time in my life. I saw them on TV or films but never met actual ones until that time.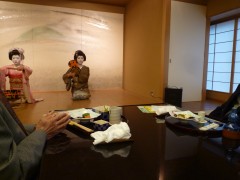 I went to one of tea houses in Mukojima, Tokyo, famous Geisha town.
I joined lunch party course set up by tour agency, which cost around 100 US $.
It was great. The meal was delicious and 3 Geisha dressing up in beautiful kimono served and entertained guests by performing music and dances and playing games.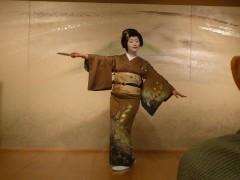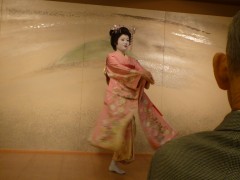 When I drank sake, a Geisha came up to me and pour that to my cup and start chatting with me. They did it very nicely. One Geisha gave compliments to my kimono. I was really glad. I talked about my favourite Geisha film, Memoirs of a Geisha. A youngest geisha, apprentice one said she saw the film. Then she said that portrayal of Geisha in TV shows and films is exaggerated. She did entertain foreign guests many times.
Many may wonder what Geisha means. Gei means performance or art, sha means person. Geisha is performer or artist or entertainer.
I really enjoyed their entertainment. It was a bit expensive but worth it.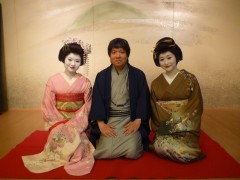 Why not try if you have a chance to visit Japan?
10 March 2013
2 year on after 311 Fukushima nuclear disastor along with the earthquake and tsunami.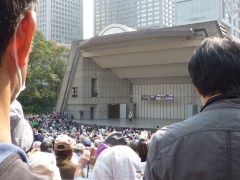 In Tokyo, on 10 of March Sunday, tens of thousands of people gathered in Hibiya Park located near the parliament and government buildings and then marched on streets calling for halt of re-operation of any more nuke plants. Now only 2 of 50 plants are operated since all the plants were shut down last May.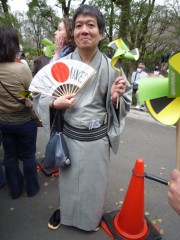 As Patriot, I joined the march to show my will of no-nuclear policy.
Nuclear energy is no longer efficient considering cost of safety measures and wastes disposal. Nuclear generation does cause severe accident, which no nation can perfectly prevent. It did happen like in Chernobyl and Fukushima and it will in future.
Surely we have to think alternative but nuke generation is no longer a choice for us.
Because I love my country, its land and its people. I can never let nukes pollute our land and people any more. I can never let my beloved nation depend on such inefficient and dangerous energy.
That is what a real patriot think. I wish other people in the world follow suit. Be patriot for your country and society.
03 December 2012
It might sound Japanese English. It means Retroprospective automobile exhibition. Tens of the old generation cars lined up in one place, called Jingu Gaien on 1 of December 2012.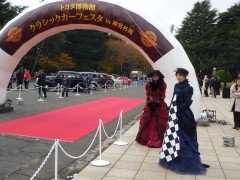 It was a great show. I could see a lot of kinds of cars in the old days.
Most notable ones I want to introduce, which I've taken photos of are as follows.
Rolls-Royce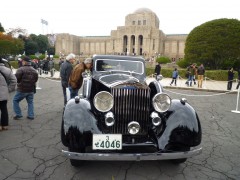 Buick, the length of the body is 5 metre.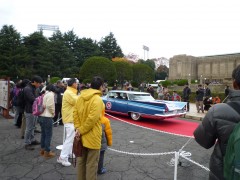 De Lorean, Car featured in the film "Back to the Future"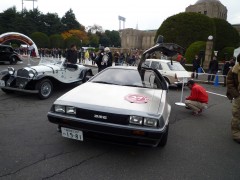 Countach, A car that a driver needs to get his head out of his car when driving back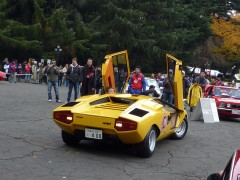 Mercedes-Benz in 1970's, this was the model when the same titled song was popular.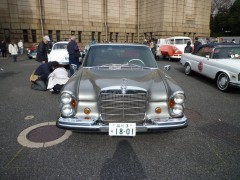 "Oh, Lord. Won't you buy me a Mercedes Benz?" Are you rich enough to afford those cars?
08 October 2012
Joined demonstration march in Shibuya, most crowded shopping and entertaining district in Tokyo.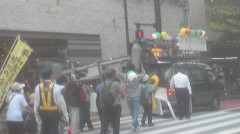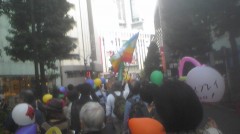 Estimated around 400 people participated. 12 ospreys were deployed in Okinawa, Southernmost island of Japan. Osprey is a hyprid helicoptor that cause strong noize and probability of accident is higher than conventional helicoptors. Propellers work as helicoptor on pad but when it goes high, the mode is changed to airplane that enables it fly further.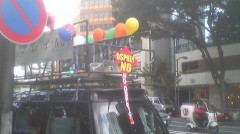 But this mode change action can cause severe accident including crashes onto the ground without control.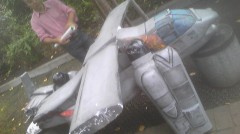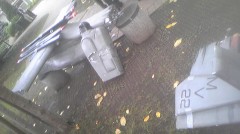 It is said that US military deployed Ospreys in Okinawa because they were not allowed to maneuver flying in their homeland because of safety problems, that aggrevated Okinawans and Japanese nationals. US-Japan treaty is one between independent sovereign nations.
As other issues such as Nuclear aircraft carrier (CVN 73) in Yokosuka, safety may not be prioritized issue. Highest prioritized issue is why we have to carry burden of US military which does not actually defend us. Threat from China? China is no longer enemy for the U.S. China has become even more important economic ally than Japan for the U.S. Even US influential congressman said military stationed in Okinawa is nothing but ruin of the Cold War.
Recently even after deployment of the new helicoptors, Chinese ships has invaded Japanese sea near Okinawa very frequently. If deterrence works, why do Chinese do that?
We really wonder why US military is stationed in our country.
We should stop treating America as friendly nation although it is not our enemy.