24 September 2010
Chinese captain of fishing boat was released by Okinawa District Attorney office two weeks after being arrested by Japan's coast guard and then taken into custody.
This seemed to be done in order to ease tension between Japan and China caused by the arrest.
I do not want to make any comment on that because I do not know the detail of what really happened.
But I have to admit China threatened Japan and Japan gave in. China is very important country for Japan, especially economically.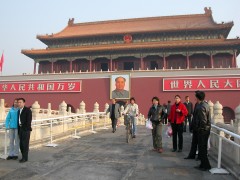 The tension grew when Chinese prime minister visited UN in New York along with Japanese prime minister and foreign minister.
The dialogue between two leaders was cancelled. China halted export of rare earth to Japan. That indeed pressured Japan to release the captain.
China is mean but U.S. is more mean. Although U.S. claim the Senkaku islands whose coastal sea was trespassed by the ship is what US-Japan security treaty's applicable area, the U.S. claims to take neutral stance for this dispute.
This dispute proved the U.S. military presence in Japan never worked as deterrence.
In fact, China provoked more retaliative action towards Japan even after the U.S. and Japanese leaders discussed and confirmed strengthening of the alliance.
Why the U.S. cannot deter China, it is obviously because the U.S. is heavily dependent on China economically as well.
China owns largest share of the U.S. treasury bonds and buys and even manufactures U.S. goods. IPADs are made in China.
The U.S. recently demands appreciation of Chinese currency value to balance the trade between the two nations but that is very hard negotiation.
The U.S. surely want to avoid trouble to mess such hard negotiation. Why they want to carry another burden for other country such as Japan, which they think declining in this century.
We cannot rely on the U.S. for the security matter any more. The Cold War is over. The U.S. and Japan no longer have common enemy.