04 May 2020
Introducing Japan's gayest TV drama "Ossan's Love" aired on mainstream TV channel
While I locked down myself to prevent novel corona virus spread at home. I just happened to rent DVD drama programs "Ossan's Love" which was aired in 2018 on one of Japan's mainstream TV network channels, TV Asahi. The drama consists of 7 episodes. Each episode was about 40 minutes long.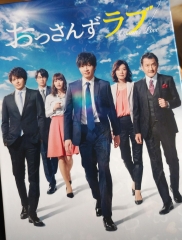 What was shocking to me is the comedy drama featured male gay love affairs all the way although it was aired on the mainstream channel and then it became so popular that subsequent film version was released in nationwide theatres and another version of the TV drama was aired on the same time frame next year.
The story took place in a real estate agency in Tokyo. The protagonist is 33 year-old male worker named Haruta (Middle in the picture.) Although the story evolved around him, the most important character was his supervisor Kurosawa (right edge in the photo), 55 year-old man, which in Japan commonly referred to as "Ossan" meaning "Old guy" usually middle aged.
Kurosawa was head of sales department of the real estate agency, equivalent to vice president of the company and a rich man. One day Kurosawa told Haruta that he loved him and would divorce his wife (Second from right) to be with him. Haruta was shocked to know that because he did not share love romance with his supervisor although he respected and liked him as a good business man.
Kurosawa then asked his wife for a divorce and then Haruta got involved in Kurosawas divorce quarrel. But Haruta also got in love affair with another man, Maki (left edge in the photo) in the office. But Maki had another love affair with another male worker. Two gay love triangles crossed over in the drama. Finally Kurosawa proposed marriage to Haruta.
The drama was all about gay love and love romance between man and woman was sidelined in the story. The gay male characters were portrayed as normal and decent person, not like psychopath or deviant ones. This is the big difference from the past. Gay characters were very normal and positive in the mainstream TV drama. Gay love romance was treated just as equivalent to straight people's love.
Not just broadcast nationally on mainstream media but the show became so popular that film version and another version in which similar gay love story took place in an airline company using the same main casts next year. In 2019 version Kurosawa was a captain pilot of the airplane and Haruta was a flight attendant. Airline company is really existing company meaning commercial airline company sponsored the program.
Recently in Japan, more people have positive views on gay relationship and more people have become supportive of gay marriage. In national assembly there are two openly gay members, who call for legalization of the same sex marriage. Some municipal governments approved of the same sex partnership and provide certificates for the residents.
This show reflects this social change.
If you are interested, you can watch the English version of the show on Netflix.