31 July 2023
I just saw the film at a small theatre in Tokyo.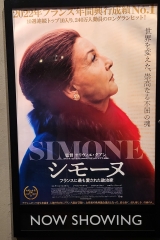 It was a biopic about the French politician who lived through holocaust and after the war became a lawyer and the minister of French government and became the first female president of European Union assembly.
She helped promote women's rights by legalisation of abortion in France, 1970's. She contributed to improvement of prisoners' condition. Why was she so enthusiastic about human rights issues?
The film started with her childhood in Nice with her family living in a happy condition before the second world war. Her family were Jews and believed France would never betray them.
But later her family were arrested by German Gestapo. She, 16-year-old, her sister and mother were deported to Auschwitz. Her brother and father were thought to be executed. The three survived in Auschwitz but they were deported again, and then her mother died in other concentration camp.
After the war, Simone married a man and gave birth to three children studying at a law school in Paris. But she had been traumatized by her experience in the holocaust and couldn't sleep on a bed. Even after the war, she could not tell others about her horrible experience during the war.
But such experiences motivated her to help others in the world. In her old age, she came back to Auschwitz on 60th anniversary of liberation of Auschwitz. She spoke and wrote all about her experience. She insisted that Europe should get united so no more war happens. Surprisingly she had lived in Germany after the war.
The film taught us it is the responsibility of living people to make the world better place and right the wrongs. Indeed, we are living in a better world, at least much better than what she experienced.
I, myself have visited Auschwitz in Poland, and learnt what happened there.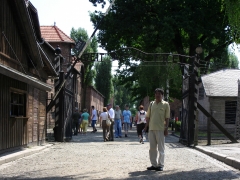 Such history should never be repeated. I felt it is MY responsibility not to let such horrible events happen again.
Sadly, it is happening and very hard to stop that.
02 July 2023
US supreme court ruled the affirmative action which sets racial quota in college admission is unconstitutional.
I, myself think it is not a bad ruling.
When a college chooses who is qualified for its students, why does race matter? Grade Point Average, entrance test scores do matter. Race matters only when an interview is conducted.
As for diversity thing,
As Justice Thomas Clearance said,
"I'd like you to tell me expressly when a parent sends a kid to college, they don't necessarily send them there to have fun or feel good or anything like that," Thomas said. "They send them there to learn physics or chemistry or whatever they're studying."
Yes, school is for nothing but studying subjects to get education.
Discrimination is a problem when the college rejects a student only because of his/her skin color.
Even college admission solely based on scores and ability to study, results in racial or gender bias, this does not mean it was an unfair judgement.
Selecting someone based on his/her trait by birth cannot be a good way to remedy society.
Thomas Clearance nominated by Bush administration era was a good example. He's made several rulings against his own people so he was not liked by his people as I recall my college days, a Black professor in Black Studies course said "Just because he was Black, this works better for Black people. No!"
America is a fundamentally white dominated racist society. So, such fundamental cannot be easily fixed.