31 March 2015
I recently bought and read a very interesting book on Germans living in Japan during 1930's and 40's, when Japan was in war with China and the USA. The Japanese title is "Senjikano-Doitsujintachi." It illustrates very unique history between Japan and Deutchland.
There were estimated over 3000 Germans living in Japan in that period. That is as much as number of Germans living in Japan now.
During that time Japan was allied with Nazi-Germany. But the German law did not apply. So Jews could live safely in Japan. Not only Jews but exiles did like a former judge who convicted Hitler in 1920's. Other European nations were too close to Nazi-Germany so anti-Nazi people escaped to Japan crossing the Russia.
For them, Japan was like a paradise. Japanese respect Germans because Germany was considered a civilized nation that Japan should model after and was indeed the most important ally for Japan.
Nazi influence was already there. Nazis established a branch in Japan, early 1930's. However, in order to arrest anti-Nazi German citizen, they needed to ask Japanese police to do that. The Japanese at that time did not get along with Nazi ideology, expecially anti-Jew stuff.
Japan and Nazi-Germany made a Cultural agreement that bans using Jew-related materials in education. But even in 1940's Heinrich Heine poems were taught in Japanese colleges. No Japanese could not see the difference between Jews and non-Jews.
The wife of Foreign minister of Japan at that time was Jewish German. Japan was reluctant to corporate with Nazis in terms of oppression on Jews.
Not only Jews and anti-Nazi Germans but Germans who had lived in Indonesia which was former Dutch colony came to Japan after they were freed by the Japanese military. Germans in Indonesia were put in internment camp after Germany invaded Netherland. They were welcomed as citizens in an allied nation.
Japanese praised Hitler as a good and powerful allied nation's leader but did not care about details of Nazis policies. The Japanese government at that time corporated with Germany mainly to counter the U.S.
But after Gemany surrendered in May 1945. Their situation was drastically changed. Japanese thought Germany betrayed them. Some were arrested as enemy spies.
I am thinking of writing a fiction novel based on these facts.
Where the story took place is in Karuizawa, Nagano prefecture, highland resort for high-society in 1945. But there were Germans staying to escape from air-raid in ciities.
Some were Jew or anti-Nazi and some are nazi-sympathizers or nazi-officials dispatched from their homeland. They got along with Japanese who welcomed them feeling complicated. Some were very thankful but at the same time not very happy because Japan was allied with Nazis and some thought Japanese were second-class people not being white.
I guess it is going to be very interesting. In order to write a good story, I am now learning Heine's poems. It may be a main topic of the story.
29 June 2014
I have recently become a big fan of TV drama "Hanako and Anne" aired daily on NHK, Japan's public broadcasting station.
It is a story on a real woman who lived between end of 19th century and 1960's. The woman's name was MURAOKA Hanako. She was a translator who translated famous English books including "Anne of Green Gables" and "The Prince and the pauper."
She was born in a poor family but she could attend most prestigious girls' school established by a Canadian Christian missionaries in Tokyo because of charity. She learned hi-society manner and English there.
After she graduated from the school, she became a teacher, publisher, translator and radio announcer. She was also a sufferagist.
Surprised to know there was a life like hers. She met great people in life. Her life was far from average women at that period.
She lived through the second world war. During the air raid on her town she translated Canada's famous children's book "Anne of Green Gables", which she was given from her Canadian friend who left Japan because hostility erupted. In the war time, she could never expose herself to be English speaker in public. English was treated as the enemy's language. But she kept on translating the book although she never knew who would publish it.
Why could she hold on hopes in such severe time?
Maybe because she remembered words from her school's principal, Ms. Blackmore.
"If some decades later, when you look back on your time with us, you feel these were the happiest days in your life. Then I must say your education will have been a failure.
Life must improve as it takes its course. Your youth, you spend in preparation because the best things are never in the past but in the future. "
That was very impressive words.
In fact, her translation of the book was published 7 years after the war ended and became a best-selling novel, giving hopes to Japanese in the post-war era.
Yes, we should not give up hopes and look to the future, never look back the past.
Then we will make things better than the present.
24 December 2013
The novel was written by Japan's most notable novelist in 20th century, Endo Shusaku.
Recently the news that Hollywood decided to make the story into film next year was reported. The setting of the story was early 17th century of Nagasaki, Japan when the government ruled ban on Chrisitianity and entry of foreigners except Chinese and Dutch. That policy was aimed to get rid of western influence on its society in order to avoid colonization. Dutch was neutral as for this matter. Dutch hated Catholic nations and advised Japanese government to stop trading with Catholic nations.
The story started with a news that one most prominent and highly respected missionary sent to Japan abandoned his faith after severe torturing by Japanese authority. That shocked two Portuguese Catholic priests. They decided to secretly enter into one secretly Christian village in order to locate the missionary and continue Chrisian preaching for the localies.
However, they were found and arrested by Nagasaki authority and then their followers were tortured to death. One of the two died. One surviving one prayed God for his tortured followers but no salvage was done. God kept silence.
Later he finally met the person he wanted to meet from the beginning. The missionary he once respected whom he tried to locate. He was advised by the missionary to abandon his faith just as he did. Then he followed his advise. What he did was stepping on plate of engraved Jesus Christ picture. That was most usual custom to check if a person is Christian or not in those days. If you could do that, that proved you were never Christian or you just abandone your faith by doing so. He stepped on it to save tortured followers. It was a deal with the authority.
Since that era, Japanese Christian teaching was totally abandoned until it was re-allowed in late 19th century.
Surprisingly the story is based on real characters and real events. In the book the authority says "Christianity can never place roots on Japanese land. It is never universal teaching." That sounds true.
In fact centuries after that era, even after freedom of faith was insured by the constitution, less than 1 % of the population are Christian today. More surprisingly in this season you can veiw many illumination and Christmas trees and find Christmas events in Tokyo. But very few of them are dedicated Christians. Japanese Christmas events are nothing but commercial purpose.
One remain of Christianity of that era may be tea ceremony. There is a legend that Japanese tea ceremony was modeled after Christian mass ceremony in that era. In fact founder of tea ceremony, Sen no Rikyu was a man of the era that Christianity was still allowed and his wife and daughter were Christian.
If that is true, Christianity was continued throughout banned era. The root was placed. Praise Jesus and Praise tea!
03 May 2012
A story of an American economist named Eleanor M. Hadley who contributed to Japan's post-war democratization, especially in the field of redistribution of wealth of the nation.
She visited Japan before the war between the two nations started. She was an exchange student and studied Japanese. During the war, she studied economics in Harvard. After the war she was hired by US Occupational force, so called G.H.Q.
The book described her life experience in Japan. She toured Japan and witnessed severe poverty in rural areas. In those days poor peasant families had to sell their children to prostitutes, Geisha or servant house to earn living.
After second world war, what she was involved in was dismantling of Zaibatsu (Corporate conglamour) such as Mitsubishi, Sumitomo, Mitsui, and Yasuda. She, her colleagues and her superiors thought that was best way to rebuild Japan's economy. Pre-war time Japan was much like Plutonomy. Small portion of the population dominated most of the wealth. Dismantling of Zaibatsu was to hike tax on the rich and dissolve their share-holding companies to re-allocate the wealth to number of people in the country.
The below is photo of former residence of Mitsubishi Zaibatsu family.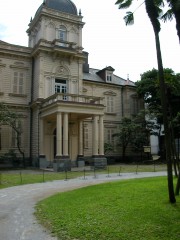 It was like "Gone with the wind" for the family. Actually their residence was even occupied by the Yankees. They lost huge part of their asset by post-war economic reform. They did protest that but G.H.Q. actually did it with her advice.
Interesting thing is that kind of reform was even objected within G.H.Q. because this type of reform was more like communism. Forcibly taking away wealth from the rich, did not match with US free market economy ideology.
She and her colleagues were later dismissed from public office on suspicion of communist activity and treason. Her name was cleared 20 years later.
Thanks to G.H.Q's reform, Japan has become relatively egalitarian society among advanced nations. Ironically the U.S. at present has become plutonomy society. That is why "Occupy Wall Street" movement occurred. Only top 5% of the population dominates 60% of the nation's total wealth. Top 400 richest households wealth is equivalent to that of bottom half of the population.
The rich can do anything they want in the world's most democratic nation because they finance President, Senators, and Congressmen. They can even control media to shut down unfavourable information for them to manipulate mass-population.
Recent Micheal Moore's film described how plutonomic American society is and in contrast the film showed President Roosevelt's proposal of Second Bill of Rights during second world war.
The right to a useful and remunerative job in the industries or shops or farms or mines of the Nation;
The right to earn enough to provide adequate food and clothing and recreation;
The right of every farmer to raise and sell his products at a return which will give him and his family a decent living;
The right of every businessman, large and small, to trade in an atmosphere of freedom from unfair competition and domination by monopolies at home or abroad;
The right of every family to a decent home;
The right to adequate medical care and the opportunity to achieve and enjoy good health;
The right to adequate protection from the economic fears of old age, sickness, accident, and unemployment;
The right to a good education.
All of these rights spell security. And after this war is won we must be prepared to move forward, in the implementation of these rights, to new goals of human happiness and well-being.
Micheal Moore said it did not come to realization in the U.S. because Roosevelt died before the war ended. In fact Japan acquired the above rights. They are written in Japan's post war constitution.
Article 25. All people shall have the right to maintain the minimum standards of wholesome and cultured living.
In all spheres of life, the State shall use its endeavors for the promotion and extension of social welfare and security, and of public health.
Article 26. All people shall have the right to receive an equal education correspondent to their ability, as provided by law.
All people shall be obligated to have all boys and girls under their protection receive ordinary education as provided for by law. Such compulsory education shall be free.
Is it because of G.H. Q. people including Ms. Hadley?
If so, we should be thankful to her and the U.S.
I recently come up with the idea of my new novel. The title would be "Second Bill of Rights." The main character is a son of Japan's notable Zaibatsu family. Before the war he met a brilliant young American woman who was an exchange student like Ms. Hadley in Tokyo. He and she became good friends discussing arts, culture, politics and economical system of Japan, U.S. and rest of the world.
After the war, his family ruined. They saw each other again in Tokyo, this time she was a G.H.Q's economist. But the two got deeper relationship than pre-war time.
Doesn't it sound interesting?