07 October 2015
Last month during what is called "Silver week" holidays (September 19 to 23), I visited a feudal period castle, Himeji Castle. It is located in Himeji city, 3 hours and half by Bullet Train from Tokyo and almost 1 hour from Kyoto.
As the train was reaching the Himeji station, I could view the white castle from the window.
As soon as I got out of the station, I could view the castle far away.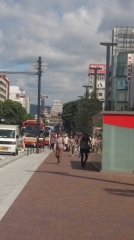 It was magnificient view. As I got closer to the castle, its appearance impressed me more.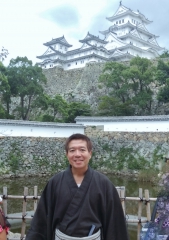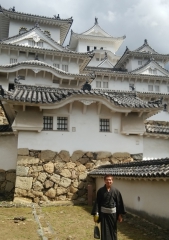 The castle has had that appearance since early 17th century. It is one of 12 still existing castles from the feudal period. In late 19th century, there were hundreds of feudal lords' castles in Japan but most of them were dismantled by new modern government order or destroyed by air raid during the second world war.
The castle went through several rennovation because it is old and wooden-made. But the basic structure and materials are the same as the old days with no elevator inside. Tourists have to climb up ladder-like stairs to the top 6th floor.
Actually such castle tower is not for residence of feudal lord rather, it was for symbol of power, observatory, and evacuation from the enemy invasion. So not functional for living. But the veiw from the top was spectacular.
It is designated as World Heritage site in 1990's. So it is famous internationally. But it was already famous before designated as World Heritage site. The castle was one of film location sites of 007 "You Only Live Twice."
The film was released in 1967. It showed how it was like in those days Japan. First James Bond actor Sean Connery wore kimono like a Japanese man and played like Ninja. Ninja were spies like 007 in feudal period. Himeji Castle was used as a ninja training facility.
The story is unrealistic like a comic. Maybe that is the feature of the film.
But viewers can enjoy sight-seeing of Japan. Seeing Sumo matches, kimono bond girls, fishery village, traditional wedding, Ninja, Himeji castle, volcano mountain and etc. All the things are very much Japanese. Not only those things but modern aspects of Japan were included such as subway, city neons, Toyota sporty car, 1964 Tokyo Olympic facility and pier buildings that James Bond fought against gangs.
Interestingly, foreigners could find more beauty of Japan than native Japanese.
This film is kind of basic form of 007 film since it was last work based on Ian Flemming novel. The story has some mutuality with film "Mission Impossible, Ghost Protocol". It included the global criminal organisation called "SPECTRE" that James Bond fought against.
SPECTRE is latest 007 film scheduled to be released this year. In that sense it is a great timing to see this old 007 film.
I am glad that James Bond, modern day ninja visited Japan and let viewers enjoy touring of this mysterious country.
Last scene of the film depicted Japan's mysterious aspect. Eruption of the volcano. Japan has many volcano. That is why we have many natural hot springs as well as earthquakes that sometimes caused big tsunami and destroy nuclear power plants.
01 June 2015
I just happened to know this film while participating in Tokyo Pride Parade event.
It was British movie. The Japanese title was "Parade e Yokoso (Welcome to the Parade)"
The story is based on facts. In 1980's coal miners did strike against Thatcher adminisitration's policy to close down unprofitable mines.
Gay activists in London launched fund-raising campaign named "Lesbians and Gays support miners."
At first they were not accepted by miners' community but later on both sides understood significance of corporation getting over the difference. Like one of important characters said "You support us so we support you."
In the end, miners joined gay parade to show solidarity with the activists.
The both oppressed communities got united to help each other.
I recently came up with the idea of new novel using the concept of unification among oppressed communities. Gays are not the only oppressed but women, disables, and recently those who are fearing new foreign military base construction in their local prefecture, Okinawa, Southernmost prefecture of Japan. For details, please read the articles tagged Okinawa in this blog.
The mining town in the film was in Wales. It was several hour drive from London but very different culture and people exist, even language is different. One different tribe in one nation. That thing is very much like Okinawa.
I kind of do the similar action to the film, helping that prefecture people. On 24 May 2015 I joined protest activity such as human-chaining demonstration around Japan's Diet building in order to show solidarity with them.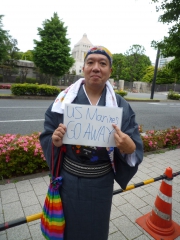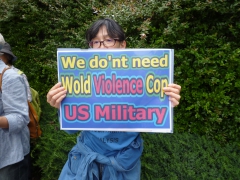 Last year I saw the rainbow on the construction area. It appeared from the sea. The construction project is reclaiming the beautiful coral sea. It was on the same day after I attended Okinawa's gay pride event.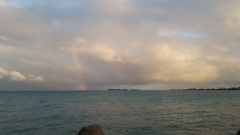 Well, it seems another oppressed ones got united helping each other for the better future.
Just my fantasy?
30 December 2014
I learnt the queen is called "Her majesty" by this film. Just like Emperor is called "His majesty."
The story is just as unrealistic as other films in the series. James Bond went to Switzerland to search for a bad guy who tried to spread poisonous chemical all over the world. While the search, he met a beautiful woman and fell in love with her.
Great thing about this film was that James Bond really fell in love with the woman and lastly married her. That was actually what her father asked him to do in exchange for the information Bond needed. But he really loved her.
The words her father told 007 about his daughter was very memorable. She divorced and lost her child and was in despair. She demanded too much but never met that demand so she could never make herself happy. Right, no one should not demand too much. I recently learnt why I've been not so happy these days by the words.
Interesting fashion was James Bond wore skirt as formal wear at dinner. Actually that was Scottish male formal wear. James Bond was said to be Scottish. It may be common with Japanese. Traditional Japanese male formal wear is skirt as well, actually longer.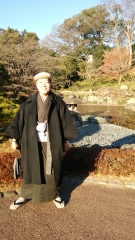 The Bond girl in the film seemed very advanced type of character in that era. She skied and drove very professionally and fought against a big man with her hands.
That made me think Bond girls in the series created original image of Charlie's Angels in 1970's. In fact introduction of the film is similar to Charlie's Angels TV shows, shadow image of women's figures.
Unfortunately, Bond girls in the series are killed. At least one in one film. That is the cliche of the series, making viewers sad. But maybe very realistic in that sense.
In this film this cliche was very passionately used. Very cruel way. It happened not in the beginning or in the middle like other films but in the end, which was very dramatic. That really made viewers sad.
That really impress viewers and let them learn how clever the film makers were.
Please see the film and you can share the same opinion with me.
04 May 2014
The story based on autobiography of former British military personnel in charge of radio communication, Eric Lomax, who became POW of Imperial Japanese Army in occupied Singapore during the second world war.
Even after the war he suffered from trauma caused by his experience as POW in Thailand where he and his comrades were transported to. Later he found that the interpreter, Nagase in the Japanese army, whom he met at that period was still alive in Thailand and decided to return there.
It was really shocking to see the film and know the facts. British soldiers were used as labour for construction of the railway and tortured by the Japanese army.
The film, itself was well-done however, reaction from Japanese audience seemed not so positive maybe because of portrayal of Japanese army in the film. It was indeed British perspective.
I was impressed by some words in the film.
"Japanese soldiers choose to die rather than being humiliated alive but Britons live to fight. "
"I have lived for this day. If the war did not end, end this (with your sword)."
Those were paraphrasing of what Nagase said when he re-encounter with Lomax and told him how guilty he had felt for what he did.
In the end, both men reconciled and kept good friendship until they both died recently.
We are all humans. We make mistakes. We hate each other but can understand each other. We hurt each other but can help each other.
We can learn from past mistakes and improve ourselves for better future and our decendants.
I think, that's the message from the two men.