14 November 2014
Biographic story of Bayern king in 19th century Deutschland (Germany).
A young Ludwig succeeded Bayern crown after sudden death of his father.
Unlike his father, he never liked war and loved music and art. He believed art and music could maintain the peace but at the same time he had to struggle with the reality of the world.
Ludwig admired a opera music composer, Wagner. He became a patron for him. He liked Wagner's most famous opera "Lohengrin." He was a romantist.
But his kingdom faced wars and its sovereignty was weakened by defeats of the wars.
Then he tried to escape from such harsh reality and in his late years he ordered to build his own imaginative castle Neuschwanstein. Neuschwanstain was modeled after the castle on "Loengrin" stage. In Japan it is famous for model of Cinderella castle in Tokyo Disneyland.
I visited Neuschwanstein in April, 1995. Before visiting the castle, I went to Ludwig's home castle nearby. Luckily I was the only visitor so I could speak with the local guide about Ludwig's life. She told me the relationship between his dynasty and commoners was not bad so there was no bloodshed revolts like France. I asked if Ludwig was gay. The guide just laughed. Actually he was and that thing was portrayed in the film.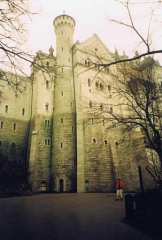 It was of course, a taboo in his society at that time. He struggled with that thing as well.
Lesson of this biography is no one can avoid reality. We all have to deal with it. If you try to escape from it, in the end you will be like Ludwig.
But art and music are really important in our real life and energize us.
Wagner's "Lohengrin" and Neuschwanstein in fact became German's most glorious heritages. Ludwig indeed contributes to his nation even after his death.
29 September 2014
I could never understand why a girl like her has become so popular internationally.
Her name is Kyary Pamyu Pamyu.
She is like Lady Gaga of Japan. Her sales points are very unique custumes.
But her singing is not music, just high tone voices.
Last Sunday I went to Tokyo Metropolitan Gymnasium. There was a festival of concerts, fashion shows and exhibitions. Those were awesome but the biggest event was her concert in the final session.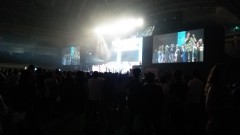 What surprised me was there were many audience from abroad including Europeans. Some wore custumes like she wore.
Can they understand and enjoy her singing?
It seems they did.
I can never follow what they are doing.
What is going on in this world? I felt like Alice in the wonderland.
01 December 2013
I went to one Art drawing workshop. The art of drawing naked human body. I have been to several of such workshop. I drew naked men or women posing on sketchbook.
This time was something different. I, myself became a naked model. I took off all the clothes and stood naked in front of more than 10 people including 3 women.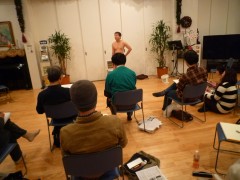 The reason I did that is I should be the one to be drawn to learn better about how to draw others. One should be the object of what he/she draws to know how to draw better. Vice-versa experience or role-reverse game.
It was a very meaningful experience. At first I was embarrassed and nervous but after a while I get used to be looked at. I stood still for 15 minutes and another 15 minutes I sat down on the chair still. I did not even move my head during those times. I felt double length of the time. 2 scenes of naked figure of me was drawn by artists around me. How did they view me?
The result was as follows. I picked 2 drawings as my favourite among more than 10 works. The above is picture I think most beautiful although it did not look like a real figure of me. The other is picture, I think closest image I have about myself.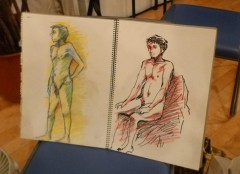 It was a really great experience that I want to share with other people. You learn how others view yourself and find yourself objectively.
However, I will never do that again. Once is good enough.