29 February 2020
Tokyo 2020 Olympics is on the verge of cancellation due to the outbreak of novel coronavirus.
The main stadium in Tokyo.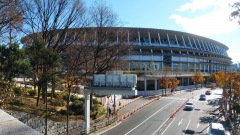 It seems, this disease keeps spreading for months worldwide including the host nation, Japan. It is impossible to lock down. The only solution is invent the vaccine. Even someone found the one for the virus, it will take a few months or even years to bring it to practical use.
It is reported that IOC will decide whether to cancel the games by May at latest.
In my opinion, I don't care. I was actually against the Olympics to be held in Tokyo because of too much crowds and heavy traffic. Tokyo is already too crowded and busy.
Citizens don't want any more crowds in the city.
As for economic effect, it is just for a few weeks. It does not last so long and only benefits big companies who want to gain big money by sponsorship and construction of facilities.
In fact such things are true in every Olympics these days. It has been much commerialised for money making. Athletes have to do the matches in inadequate season and time to match with American TV broadcasting.
Summertime in Tokyo is too hot for athletes. It had to be scheduled in Autumn. 1964 Tokyo Olympics were held in October. But it was not good season for Americans because of baseball matches.
Swimmers had to swim early morning like 8AM in 1988 Seoul Olympics because that time was prime time in America.
In early 20th century, Olympics were used to heighten nationalism like Nazi-Germany did in 1936 Berlin and America did in 2002 Salt Lake after 911.
It is said if the Olympics were cancelled, it may be postponed to next year's same season.
But you never know when the outbreak ends.
But most ideal thing is to cancel the event so there is no more fuss. Then no more Olympics from now.
Tokyo, Beijing, Paris, and Los Angeles. All cancelled. Or each event can be scaled down or disperse.
It costs so much money and places too much burdens on athletes.
It is a great timing to rethink the significance of Olympics. The Olympics may be one of remnants from former century.
06 July 2017
Recently I have come to believe life means killing time until death. Cultivating such thinking is particularly liberating when you are in grips of depression, with seemingly never ending suffering.
The notion that it is imperative to accomplish great feat is often at the root of all suffering. I believe that enjoying the simple pleasure at a moment, without obessesing with accomplishing greate deeds, without setting goals is one way of living a life.
What do you think?
08 April 2015
Last Sunday, I went to Kanayama Shrine in Kawasaki city in Kanagawa Prefecture, neighboring prefecture to Tokyo. Over there held annual festival named Kanamara-Matsuri.
I saw very surprising scenes. The giant symbols of male genitals are exhibited.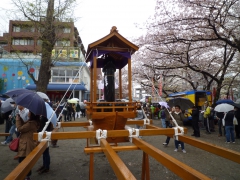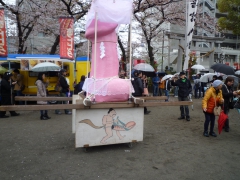 They are the things worshiped for centuries at the shrine.
The festival was to pray for the health of people, especially to avoid sexual transmitted diseases.
The symbols were to be carried outside the shrine and to be exhibited on streets in the town.
They are portable shrine, so called Mikoshi.
Not just Mikoshi, there sold candies whose shapes were like the genitals of female and male.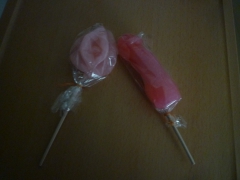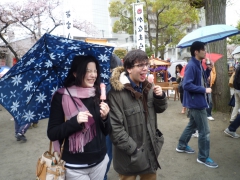 One third of spectators were foreigners although this place is not known as major tourist spot but it seems known as Japan's unique culture.
It is very unique taking Japan's conservatism into account. Japan is also very modernized and industrial state.
Then why such festival is held.
It is because that was Japan's very original culture before modernization in late 19th century, before westerners came to educate us to be "civilised." That was westerners who changed our attitude towards sex. Since then, sex has been treated as an indecent matter that we should avoid talking about.
Now westerners are campaigning free sex and praising Japan's native culture that has been forgotten.
The priest of the shrine claimed that significance of the festival is to know that you are living life. If not, one could never come to the festival.
It is not indecent thing but rather we should worship as humans.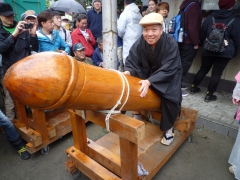 28 May 2013
I am training myself to be a healthier and muscular man.
I go to training gym nearby. The gym is Gold's Gym (Gorudo Jimu, in Japanese) located neaby area. It has good equipments and interior is fancy. Its trainers are well-educated and kind.
I recently realized that I should do work-outs not only at gym but also at home. I do not know how. I never had any work-out machine at home though I had a treadmill.
Then I asked a former Gold's Gym trainer who is now working as a freelance to come over to my place and give me instruction. I bought a dumbbell (10kg) for that.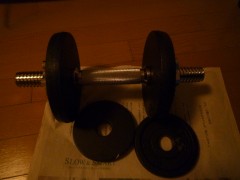 His personal training was excellent. He first taught me how to run on a treadmill, then push-ups, several ways of muscle training using one dumbell and finally abdominal. Surprised to know there are many ways to do at home. I am doing this excercise menu twice a week at home.
I really met a great personal trainer. He was nice, friendly, energetic and caring. But he is also polite and gentle. I will continue receiving his instruction. He, himself is a body building competitor. He is now working hard to participate in the Tokyo Open tournament held in July. He said he could not eat rice for dinner for the preparation.
I have a goal for training as well, not just being healtheir and muscular. I will be a nude model for drawing at an art school. I want to make my body more suitable for drawing.
Not just work-outs, I change my lifestyle for eating. From now on, I do not eat rice or spaghetti for dinner. I eat eggs and soys more often than ever. I will have much less sweets and alchohol.
Every day I drink protein powder with milk or water twice to gain more protein in my body.
I will make it.