28 February 2021
It's been thought women are not good at mathematics and not suitable for engineering jobs. But that kind of notions were proved to be nonsense a long time ago. The film "Hidden Figures" described three Afro-American women working for NASA rocket engineering department as mathematicians, in Jim-Crow era, 1950's to 1960's.
I learnt about the film by Voice of America article on NASA's International Space Station program. NASA named the supply ship to the ISS Katherine Johnson after one of mathematicians in the biopic film.
They were not only being woman but Black women, who had to sit down on back seats in public bus and could not share the same bathroom with their white co-workers. But they did contribute to the very difficult space programs by calculating the orbit and designing rockets.
If they were white male, this story cannot be a film.
Breaking stereotype is the most important factor to counter racism or other type of discrimination such as gender, and sexual orientation. Stereotype is the origin of discrimination. Prejudice is biased view on others using stereotype images. Then people discriminate others based on prejudice.
Stereotype is baseless information about others. Like all Japanese can do Karate, which I don't. You cannot generalize others based on such stereotype. The sad thing is people judge others by these stereotypes and then sometimes treat them badly.
In the film, NASA officials found the women very useful to the organization's projects so they accepted them equally. If they hadn't accepted them as legitimate staff, NASA would have lost such great assets and wouldn't have succeeded in historic space missions in those days.
Stereotype, prejudice, and discrimination undermine progress of our society.
Let's get rid of such things from our world.
25 October 2020
Last September I visited Fukushima Daiichi Nuclear Power plants being in the process of abandonment. 9 and half years ago, diesel generator for emergency that had run 4 of 6 plants were destroyed by tsunami and released massive amount of radioactive to surrounding area in Fukushima prefecture, located about 200 kilometer away from Tokyo. What happened was inside these reactors, nuclear fuels lost coolants and melted and then hydrogen was touched with oxygen of air, that caused explosion.
I joined two-day tour to the Fukushima nuclear plants and its nearby area. On the first day, my tour group was escorted by workers of TEPCO, which is responsible for the accident and current abandonment, to the site.
Surprisingly, visitors were not required to wear protective suit to enter the site because most of the sites are already cleaned up. Even workers there do not need to wear ones.
I could bring my own radioactive counter to back side of the plants. The photo was just taken behind the No.1 plant which exploded first followed by No.3, No. 4 and No.2 explosions. All of the crippled 4 plants (No.1 to 4) were capped but nuclear debris are still inside the reactors and planned to take out a few years later.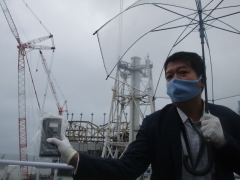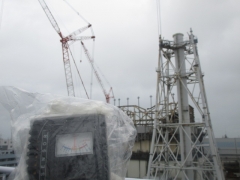 Compared to the level measured in Tokyo (photo below), it was detected extremely high level, over 80 micro SV.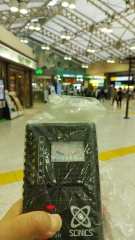 That night we stayed at J Village sports athletes accommodation and training facility located 20 km away from the site, in which TEPCO and Japan's defense force used during the crisis. Now the facility is back to normal as had been before the disaster.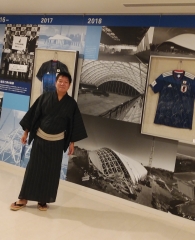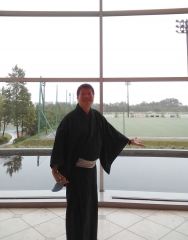 Last year some foreign Rugby teams used the facility during the Rugby World Cup tournament. It has a hotel-like accommodation and several field grounds for soccer or Rugby. Hotel room was cozy with a shower room. But the hotel has nice view big communal bathroom on top floor.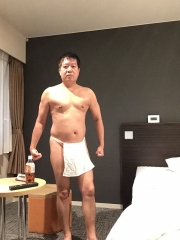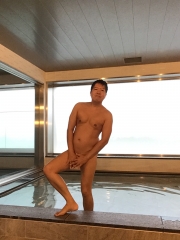 Next day we visited the cattle farm named Kibo no Bokujo (The Cattle farm of Hope) of more than 200 oxen abandoned after the disaster. It is located in Namie town, 10 km northwest of the nuclear plant site. The owner of the farm, Mr. Yoshizawa we met said he takes care of the abandoned oxen even the government instructed him to kill them. The farmland is enclosed by high-voltage electric wire to prevent oxen from escaping. Before the accident, Fukushima was known as one of greatest breeding place for oxen that had produced delicious beef.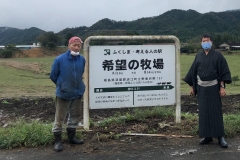 He said he wanted to keep them until they naturally die to symbolise the responsibility of humankind who breed them and established nuclear power plants that affected their lives.
He gets no income but pays annual cost of more than 10 million yen (around 100 thousand Euro or US$ worth). All the cattle are castrated so no more offspring will be created. The cost was funded mostly by donation.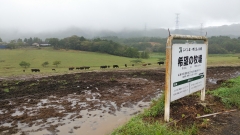 This tour is not only for learning about the nuclear accident but the big earthquake and tsunami disaster. Over 20000 people in Northeast region Japan died or are still missing by that.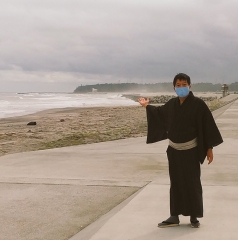 On the sea coast, 6 km away from Fukushima Daiichi plants there still remains of what happened in tsunami hit residential area.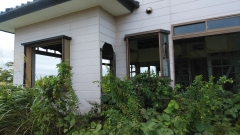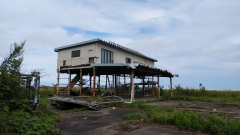 The new museum in memorial of the disaster and nuclear accident was established and opened in September.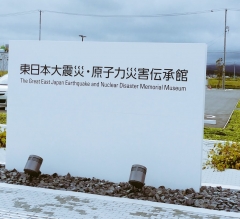 However, the disaster never ended. As fore-mentioned, the abandonment is still halfway and might even take another decades to finish.
Just recently TEPCO announced it will release processed contaminated water in which hazardous nuclear substances was filtered out but still tritium is contained to Pacific Ocean. They claim it is not hazardous to environment because tritium has very low-level of radiation, which experts claim outrageously wrong.
When I visited the crippled nuclear plants, I was requested to take a photo with a water bottle that contained tritium to appeal it is safe.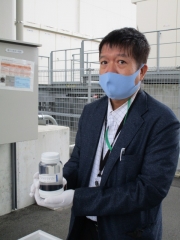 Well, it seems we have to continue fight against the nuclear industry.
If you are interested in the tour, contact me through this blog or twitter. I can refer you to the travel agent. The cost is around 45000 yen (400 Euro or US$). Dark tour or I would say, good Study tour for you.
30 April 2016
March and April were the big months for anti-nuclear movement of this year. 5th anniversary of Fukushima Daichi nuke plant's accident and 30th anniversary of Chernobyl nuke accident.
Since 5 years ago, Japanese public opinion has turned out to be mostly anti-nuke generation. Before that, survey results are usually pro-nuke generation.
Since that time, terms such as sievert, becquerel, caesium, iodine, plutonium, strontium, thyroid cancer, china syndrome, and etc have become very familiar. Not just with experts but ordinary citizens.
Fukushima Prefecture still suffer from radioactive released from the crippled plants.
I went there last month. I saw the radioactive-level measurement machine in front of railway station located 45 km away from the plant. Neighboring area of Evacuation zone.
That level is double the normal level before the accident. Radioactive still remains.
It is reported that tens of times of higher percentage of thyroid cancer cases are found among minors in Fukushima. That level is similar to Chernobyl which was estimated to release 10 times more radioactives to the environment.
Currently only two plants out of 50 in Kagoshima Prefecture are being operated. Last month two plants in Fukui Prefecture were shut down due to the court order after citizens filed lawsuit against the power company.
In Tokyo, on 5th anniversary day, citizens gathered at prime minister's residence to show their protest.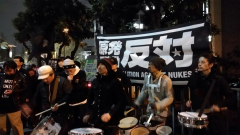 In a corner of a ministry building which is in charge of nuclear energy administration, protestants set up occupy tents to show their will since September 2011. It was modeled after Occupy Wall Street movement.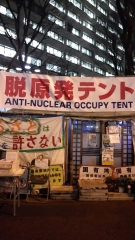 Kan Naoto who was a prime minister at that time interviewed by Asahi Newspaper recently claimed there was a possibility that whole Tokyo area would have become evacuation zone. It was a kind of miracle that it did not go so terrible. It may be attributed to God (or Buddha).
I remember that 5 years ago, I was working and emailing with a client who said the job we were dealing could be worthless because we never knew how our society would have become.
In Chernobyl another centuries are needed to completely dismantled the crippled plant. Thousands years to recover the area to get back to normal zone. As Einstein claimed, humanity and nuclear can never coexist.
Renewable energy has been booming lately. In next decades price of renewable energy will be much lower than nuclear energy.
Nuclear age is coming to end. We must end it!
Not just that, we must change our lifestyle so that we do not need so much energy that we have to rely on such hazardous energy source.
12 June 2015
More than a year ago, I switched from the small mobile phone I had been using for more than five years to a cutting-edge smartphone. Almost everyone I knew had already made this change. Among young people, practically everyone uses a smartphone these days, while the users of mobile phones all tend to be in older age brackets.
A smartphone is operated by using its touch screen, but I had heard their batteries soon run out, so I had long been hesitant about getting one. However, my cell phone was getting old and its performance was fading, so I decided that if it had to be replaced, I would get a smartphone. I was surprised at how quickly I figured out how to use it. My new smartphone had so many functions I'd never seen before and was just like using a personal computer, so I became adept at doing various things on it. That in itself is quite impressive, but it recently got me thinking.
I wondered, is it OK to seek such convenient items even more than we already do? Should we constantly worship the latest technology and continue our lifestyles in which we buy one new thing after another? To take the question a step further, will this way of living continue unabated? Surely at some point, we will reach a limit.
I began thinking seriously about these questions after the Fukushima nuclear accident four years ago. How long will this era in which we take electricity for granted, no matter where we are, go on? I wondered about this when I saw towns and cities being thrown into darkness due to a power shortage.
Come to think about it, people began using electricity in their everyday lives only about 100 years ago. In the course of human history, this is merely the last couple of generations. Now we depend so heavily on electricity that civilized society itself would collapse without it.
Despite all this, electricity is actually not easy to produce. Most of it is created from natural resources that exist in limited quantities underground, such as the burning of oil, coal and natural gas, or through a nuclear fission chain reaction using uranium. Truth be told, some of these resources are so scarce that their supplies will run out within a century. Furthermore, using them creates some terrible by-products: burning these resources leads to global warming that generates rapid climate change, and fission runs the risk of radiation leaks as well as producing nuclear waste that will need to be permanently stored and managed.
Wind and solar are recognized as new ways of generating renewable energy, however comparatively the amount of energy produced is much less. Additionally, despite the production of these power generators, natural resources are still needed, therefore it's not all that significant of a contribution.
Eventually, at some point a time will come when we must live off ofmuch less power consumption than we do now. If becomes the case, what should we do?
This has nothing to do with our current generation. There is also the notion of using up natural resources and enjoying ourselves while we still can. This will also bring about a feeling of remorseful towards future descendants.
I think the best answer is to make an effort to promote the reuse of natural resources, increase the share of renewable energy, and develop more energy saving techniques. However, shouldn't we actually address it by moving more towards changing our lifestyles to not use so much electricity. We should be trying to move closer, even if only a little, to a lifestyle that was considered normal up until a century ago, a lifestyle without using energy, and save a livable world for our descendants.
Stop using vending machines, stop having things like 24 hour convenience stores and restaurants. Even stop using neon signs along roads. It's absurd to have cities that are always lit up.Start to curtail unnecessary things.
I think we must become able to enjoy these things, rather than think of them as painful. Last year I had a personal experience that can relate to this, a power saving tea ceremony held at a tea ceremony school. In fact, the tearoom did not use any power at all.
It was the afternoon but we did not use electric lighting, I had macha and sweets in a dark tearoom that was lit up by the mere glow of candles.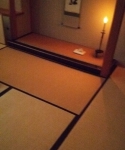 While I sensed the inconvenience and darkness around my hands, at the same time I experienced the elegance of it too. I was able to enjoy flavors in the macha and sweets that were not there before. If I think about it, Sen No Likyu of the warring states period (16th century) who began the tea ceremony must have felt like this, so this was like an experience of the original tea ceremony.
Why not try to gradually move our daily lives closer to this style.
If that happens people will say, what should we do about smart phones and computers, but on the contrary I think this is what we need. It is also for proposing those reactionary, but yet still aiming towards the future kind of lifestyles and spreading them to lots of people.
For those of you who have read this article, why not think it over.