29 July 2021
I recently come to think "Small is beautiful" meaning you do not have to seek bigger size. Why not just stay in a small scale, which may be more comfortable?
I live in Tokyo, where so many tall modern buildings stand. But I am not attracted to such scenery any more.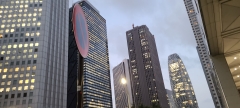 Now I am attracted to traditional district of Kyoto, where wooden low height houses line up.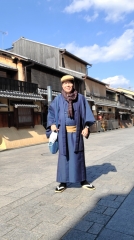 Tall modern buildings consume so much electricity that requires mega power plants causing mass emission of carbon dioxide or radioactives.
Since so many people gather in small areas, people become more susceptible to infectious disease like the current pandemic.
Why do we seek higher, bigger, and more gorgeous things? I am fed up with these things.
Not only the tall modern buildings but ongoing Tokyo Olympics are good example. Why do athletes want to compete with others for the gold medals? To become a hero, or get a prestigious status?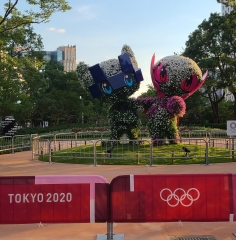 What is the significance of competing in Olympics? Is it worth risking their bodies? No way. Just a sport.
Major corporations utilize them as tools to boost their sales. Olympics are commercial shows.
This time due to the pandemic, no spectators are at the competition, meaning mass-gathering is a bad way for public health. Instead TV broadcasting worked.
Why do we need to watch such big events?
I would rather like to join a small banquet with ten or less people to be entertained by Geishas. So I can get much more closer to real entertainers than televised figures.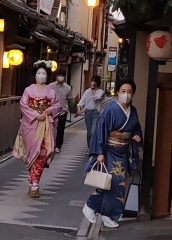 What should be the goal for humanity? I do not think tall modern buildings and Olympic athletes represents the answer.
15 June 2021
Dear Olympic Organisers in the world, who prepare for postponed 2020 TOKYO Olympics,
I, as a Tokyo resident want to deliver the message or warning to you.
"Don't send your athletes to TOKYO 2020 Summer Olympics in July to August ."
It is almost a month and a week until start of the Olympics amid COVID-19 pandemic.
I present 3 main reasons why holding this Olympics is not good.
Tokyo is not in the mood for festival.
Unethical Olympics
Lack of medical resources
1. Tokyo is not in the mood for festival
It's been almost a year and half since the outbreak started. In Japan more than 10000 people died of COVID-19. Worldwide millions died of the virus infection. Life has been restricted. Since last year the state of emergency was declared 3 times in Tokyo. Bars and restaurants are ordered to close by 8PM and no alcohol is served. 2020 Tokyo Olympics was postponed to this year's summer.
This will go on until the nation is fully vaccinated, which might take another year. Many events related to the Olympics were cancelled. No festival and No excitement in the city. Everyone is wearing masks. Rather, opposition movement has been growing. Last month more than a hundred took to the street near the Olympic main stadium to call for cancellation of the Olympics.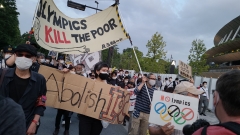 Various opinion polls indicate majority of Japanese nationals want to either cancel or re-postpone the Olympics.
Athletes and their accompanying staff, and journalists who cover the venues will not be welcome by Tokyo citizens. As we are in midst of the pandemic, their activities are strictly limited. No tourism is allowed. People fear foreigners bring virus to the city and cause another clusters.
2. Unethical Olympics
If the Olympics is cancelled, the risk of spreading the virus would be avoided. But IOC want to go ahead for such risky event together with JOC and the government of Japan. For money?
Not only risk of spreading the virus but this Olympics has had some other unethical issues. One of the big issues was symbolised by resignation of former Chairman of JOC due to his sexist remarks. Then his position was replaced by a woman.
Olympics Athlete guideline tells athletes are not allowed to hug but condoms are provided to them.
The Japanese government has recently been asking schools to halt sports activities of students to avoid crowds.
Are these incosistent policies?
3. Lack of medical resources
Japan's vaccination rate is still very low compared to other advanced nations. Vaccination on elderlies has already started nationwide and is expected to complete by the end of July. But even at that point, majority of Japanese would not be vaccinated yet. Even when the Olympics is held, the vaccination should go on meaning many doctors and nurses would be needed. JOC requires 500 of nurses and doctors for the Olympics' 15000 athletes and 70000 accompanying staff and journalists while many people are desperate for vaccination and treatment by licensed doctors and nurses.
Health experts including Dr. OMI Shigeru, hired by the Japanese government claimed it is abnormal to hold the Olympics in such a period.
Recently people are dying at home not being admitted to hospitals due to the overcapacity.
Once the Olympics started, many people move out and gather to watch the games inside and outside the stadiums, that will cause another big clusters. Even you are vaccinated, new strings of coronavirus can possibly cause another infection. At this point there are still many unknown factors.
Athletes will be seen as disease carriers in Tokyo. Would they be happy staying in Tokyo? They might get another virus by interacting with other people and bring these to their homelands.
What you should do
Please reconsider the participation in this such risky sports event for the public health of your nation and the world.
Here in Japan, Tokyo Olympics is called "Operation Imphal" naming after a big fiasco by the Japanese army during second world war in which tens of thousands Japanese soldiers died of hunger in Imphal, India due to the lack of strategy and rationality.
Tokyo Olympics 2020 is the operation in which we can easily foresee the disaster.
Please don't send your precious athletes to such unhealthy venue!
Stay home and stay safe!
29 February 2020
Tokyo 2020 Olympics is on the verge of cancellation due to the outbreak of novel coronavirus.
The main stadium in Tokyo.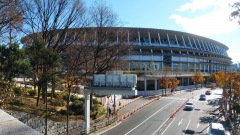 It seems, this disease keeps spreading for months worldwide including the host nation, Japan. It is impossible to lock down. The only solution is invent the vaccine. Even someone found the one for the virus, it will take a few months or even years to bring it to practical use.
It is reported that IOC will decide whether to cancel the games by May at latest.
In my opinion, I don't care. I was actually against the Olympics to be held in Tokyo because of too much crowds and heavy traffic. Tokyo is already too crowded and busy.
Citizens don't want any more crowds in the city.
As for economic effect, it is just for a few weeks. It does not last so long and only benefits big companies who want to gain big money by sponsorship and construction of facilities.
In fact such things are true in every Olympics these days. It has been much commerialised for money making. Athletes have to do the matches in inadequate season and time to match with American TV broadcasting.
Summertime in Tokyo is too hot for athletes. It had to be scheduled in Autumn. 1964 Tokyo Olympics were held in October. But it was not good season for Americans because of baseball matches.
Swimmers had to swim early morning like 8AM in 1988 Seoul Olympics because that time was prime time in America.
In early 20th century, Olympics were used to heighten nationalism like Nazi-Germany did in 1936 Berlin and America did in 2002 Salt Lake after 911.
It is said if the Olympics were cancelled, it may be postponed to next year's same season.
But you never know when the outbreak ends.
But most ideal thing is to cancel the event so there is no more fuss. Then no more Olympics from now.
Tokyo, Beijing, Paris, and Los Angeles. All cancelled. Or each event can be scaled down or disperse.
It costs so much money and places too much burdens on athletes.
It is a great timing to rethink the significance of Olympics. The Olympics may be one of remnants from former century.
25 May 2017
The film "Race" features life of Jessie Owens, an Afro-American truck and field athlete who won 4 gold medals in 1936 Berlin Olympic game. It was a time that segregation was legal in US and Nazis ruled Germany.
What surprised me was at that time, there was a boycott movement for joining the game. Jessie Owens was asked to boycott the game by NAACP, prominent advocate group for Black people.
But he went to Berlin to participate in the game along with two Jewish athletes, whom Nazis were reluctant to welcome. AOC, American Olympic Committee decided to let US team participate in although opinion among committee members were split. The film implies it was due to the committee leader who collaborated with Nazi-Germany in exchange of big business deal.
Then in the game, two notorious events occurred. In the long jump competition, Owens fouled the jumping in first two of the 3 tries in qualification match. But his German competitior, Luz Long advised him to step back a foot behind the measurement start point. The he did and passed the qualification to the final. Then he won the gold medal marking the Olympic record. After the awarding ceremony, Owens and Long walked on the truck together holding arms looking like good friends. It was very much anti-Nazis action. A white man and a Black man holding arms together walking. Long stood on the podium raising his right hand in the form of Hitler salute. In addition, in that competition, in the third place, bronze medalist was Japanese, Tajima. Actually Japan had medalists in truck and field competition in 1930's. That is far different from what Japanese truck and field society has been lately.
The other thing was two Jewish American athletes in relay competition was removed from the team just in advance of actual competition. It was due to Nazis demand to promote their anti-semitism ideology in the game. AOC leader who collaborated with Nazis was blackmailed to do so, otherwise, the collaboration would be exposed to the public.
Then Owens became a replacement for one of the two atheletes. Then his team won the relay competition.
After he got home, he was welcomed in a parade by a million of people on the street in New York. But he was not allowed to enter to a hotel in which a celebration party was held, so he had to go through back door of the hotel.
Kind of surprising stories in that era. 3 years after the Olympic game, Germany started the 2nd world war. Japan became an ally with Germany. 3 years after the war started, Long, who became Owens' friend died in the war, leaving the message to Owen that he wanted Owen to take care of his son.
How dramatic the stories were! How ugly and beautiful the things were!