06 July 2017
Recently I have come to believe life means killing time until death. Cultivating such thinking is particularly liberating when you are in grips of depression, with seemingly never ending suffering.
The notion that it is imperative to accomplish great feat is often at the root of all suffering. I believe that enjoying the simple pleasure at a moment, without obessesing with accomplishing greate deeds, without setting goals is one way of living a life.
What do you think?
19 August 2012
A young woman who lived in New York decided to write blog on her try on all of recipes wriitten on America's most famous cooking personality named Julia Child.
After she completed all the recipes, she became famous for her blog. That was a true story.
The movie itself wasn't so impressive. Kind of typical and exaggerated. Just one thing that impressed me was writing blog indeed changes your life.
Is it every blogger's dream that your own personal blog became so famous that a lot of people read it and make a fortune?
Even you can't have so many readers and make so much money by that, you can still enjoy writing blog. Sometimes you get comments which impresses you. Even small number of readers that are impressed and tell you how they feel about it, that is good enough.
I am experiencing that. It is just fun to share your life experience with other people whom you have never seen. Like Julia, when you start something new and want to complete, you should declare that on blog, then that can be the promise with other people and that can motivate you to go on, not easily giving up.
Plus, taking notes of every progress teaches you how to manage yourself regarding what you do later on.
I like blog.
19 March 2011
Dear Everyone in the world,
I just have to apologize to you as a Japanese citizen for causing such trouble.
As you know, our island was hit by historically big earthquake (Magnitude 9.0) and big tsunami swept away so many coastal towns. Tens of thousands of people died. These were natural disastors.
But next thing happened was not just natural cause. The earthquake and tsunami hit three nuke power plants in the disastor area. Two of the three were deactivated safely but one of them, Fukushima Nuke Power Plant was severely hit by the earthquake and tsunami. Japanese nuke power plants are said to be designed to resist any kind of earthquake but what was unexpected was a big tsunami.
The tsunami swept away diesel turbins which cool down nuclear reactors. Now those reactors are still self-heated because of lack of water. Water pump cannot work without generation. The heat caused hydrogen which led explosion within reactor building and then blew the roof away. Reactors themselves are still safe but it is very difficult to predict what will happen next.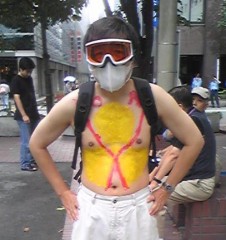 I've been against nuclear power generation. Not just because of risk of such accident but hazardous and difficult-to-manage nuclear wastes after generation. I support renewable energey such as solar power and wind power as substitute for nuclear, oil or big dam.
Now this happened. Radiation has been leaked. I am in Tokyo, where 200 kilometers away from Fukushima nuke power plant. Radiation came with wind. People are afraid. Foreigners are escaping from Japan. Some of foreign nations embassies are relocated to some other places.
As for citizens' life, there is a big change. Because of shortage of electricity, Less commute trains run. Neon and lights are turned off. The city became darker than before. In shops and supermarket food and daily commodities are sold out because people are in panic. I am in panic, too.
Suddenly I have to live extra-ordinary life. The days I enjoy watching films, skiing, and writing blog are all gone. I don't know when I can come back to such normal life.
This may be last message to you if the worst scenario happens afterwards.
08 February 2007
Does your First Lady, Laura Bush has a blog?
Surprisingly our First Lady does have it. Please see this if you can read Japanese.
The title of the blog is Akie Abe's Smile Talk. I am neither her fan nor one for her husband, Prime Minister Shinzo Abe.
But I like her blog very much. The posts may be written by some kind of ghost writer.
But I still like this blog.
Well, you cannot believe how close you feel to your First Lady by the blog.
Last Monday she talked about her coming back home. She talked about her dog in her home.
It seems she is a very kind lady. She visited facilities for street childeren in Phillipines and metally disables in Belguim.
First Lady should be a tough job as you can imagine how Laura Bush is. She has to smile all the time even when she is tired. You cannot believe such a busy woman is writing the blog, it is read nationwide.
However, liking her blog and approving her husband's work are two different things. I do not support our prime minister.
In fact he may be out of the job soon. But even after he resigns, I would continue reading his wife's blog.