20 March 2019
I bought a DVD of it last year. But I had seen the film many times before I bought that.
The story of an Austrian woman who became a governess for seven children in von-Trappe family and was married to father of the children, Georg von-Trappe and the family became a singing group in 1938. But in the end, they decided to escape from Nazi-Occupied Austria.
The story is based on the true family history.
Songs in the film are all great and became famous. It seemed that is all about music. But the film described what happened in Austria during that time. Annexation of Austria by Nazi-Germany. Annexation was done peacefully and there were many local sympathisers like Rolfe, a boyfriend to the oldest daughter.
Because recent movement in the world is becoming similar to that period, I watch this film from different angle.
Why did people favor such authoritarian regime? What kind of atmosphere was that?
Actually, people were less cautious than they should have been.
That is what you can learn from the film. Good history lesson.
20 February 2017
The German title means "He is back again." In Japan it was titled "Hitler Returns."
The story is based on a novel of the same title. Adolf Hitler time slipped to 21st century Berlin and became a popular comedian. His comments were provocative but come with humor. People considered him imposter of Hitler, but he was a real figure.
At first it seems revival of his appearance looked comical, but in the end, it was found very serious matter. A lot of innocent people were killed by his action. Not a laughing matter.
But this reflected current trend of the world.
The very example is US President, Donald Trump who took office last month.
He is anti-Muslim, anti-Mexican, racist, sexist and America First, especially white men First. Kind of horrific figure after first Afro-American President retired.
But that was a reality of America. America has been that way from the past. He said he wanted to build the wall on Mexican border. No more Hispaics. But until 1965, America had accepted mostly white immigrants from Europe.
Liberal and cosmopolitan America is very recent phenomenon which now started to fade by this man.
In 1960's America was very rich, and countering Russian communism so liberal policy prevailed.
Today America is no longer a rich nation. Cannot afford generousity and diversity.
Like Hitler's slogan, "One Nation in One State." Americans, especially whites want to go back to White Anglo Sacson Protestant America.
Just like America, other nations follow suit. Europeans have become anti-Muslim. They are basically predominantly Christian people. Why should they accept non-Christian immigrants or refugees for humanitarian purpose? Immigrants bring different culture and language and do not easily adopt to traditional community.
In every nation, priority is traditional majority. Race, culture, and language surely matter.
Society cannot be easily changed. When things change too quickly, it is natural that backlash comes.
Change should have been done at appropriate speed.
Whether it is good or evil, it is the law of human nature. Japan accepts very small number of immigrants or refugees compared to US or European nations. We are really natural and honest nation. But cannot be proud of that.
As for the film, I like the ending scene that Hitler waved his hand to the crowd with the song of the same title. It was 1960's German ballard song. That was really nice. I was lucky to know this song. I am studying German by this song.
29 July 2016
It is happening in Takae district, Higashi Village, Okinawa Island Prefecture, southernmost tropical region in JAPAN. The population of the prefecture is about 1.4 million. 3 hour flight from Tokyo. Kind of remote from main 4 islands of Japan. It is like Hawaii in U.S.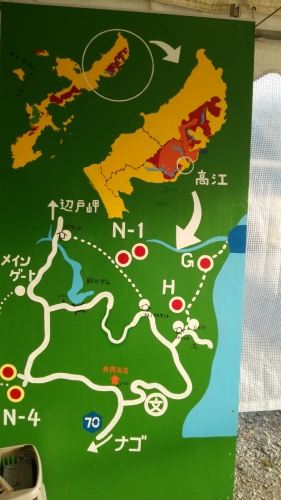 In exchange for return of some portion of US Marine training area indicated in dark red, they demanded building 6 new helipads in the forest near Takae district (circled area), residence of 150 people. The locals have been fighting against the construction project for years. They set tents at gates of construction sites as barricades.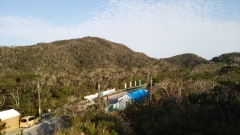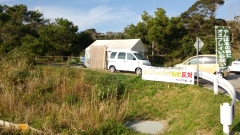 If the new helipad construction is completed, their residential area would be surrounded by helipads of ospreys that cause bigger noise and more frequent accident occurance than helicoptors because of defects of the structure.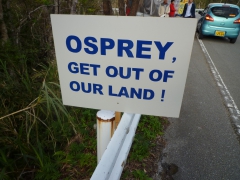 Helipads for ospreys are bigger than helicopters and destroy bigger areas of the forest. The forest is where endangered birds such as Yanbarukuina and Noguchigera inhabit. Not just forest destruction but big noise and heat waves can potentially threaten their lives. The heat waves ospreys release burn grasses on the ground.
2 of 6 helipads N4 were completed already and have been used even though the agreement states new ones would be used after all of them are completed. Then what happened is noise level of Takae district rapidly increased, tens of times more than before. 11 year-old boy got sick and had to evacuate from his local community.
Okinawa had been occupied by US military force between 1945, end of Pacific War and 1972. During Vietnam war, Takae residents were used as VetCon target in the simulation training by the military. Agent Orange may have been sprayed there.
Even after return to Japan, US military bases have remained based on US-Japan defense treaty, agreements between two soreveign nations. In 1996, US and Japanese governments agreed to return some areas of the bases to former land owners and Okinawan communities. But return plans come with relocation plans. Even the military occupied areas is shrunk, the base function gets bigger by providing new bases. Other case is Henoko-Oura bay sea located seaside of Camp Schwab landfill project for the relocation of Futenma base. A beautiful coral sea, where endangered specie, marine mammal dugongs inhabit. This issue have been discussed many time on this blog. Please check articles in Okinawa tag. This article is a good description of the issue.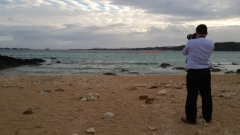 These plans have been met with local protest. Majority of locals dissapprove the plans. Governor of Okinawa Prefecture, Onaga and mayors of Nago city, where Camp Schwab is located, majority of Okinawa prefectural assembly members and all elected members of Japan's parliament from Okinawa constituencies express objection to the landfilling and new base construction plan. As for Takae, last week the construction work resumed, Okinawa assembly made a resolution that the construction should be halted.
Okinawans are fighting against US military and Japanese government that follows its demands.
Last week Japanese government dispatched hundreds of police officers from mainland to suppress local protestants that kept on sit-in at the gate of N1 construction site. Their sit-in protest was once dissolved and their tents and cars as barricades were taken away forcibly but the protest still continued.
Civil activists from all over Japan, and around the globe are backing this. Even in Tokyo, protest activities are going on. Mainstream media reported these events and more people learnt what is going on. Sorry, Americans, more Japanese hate your country.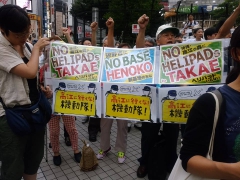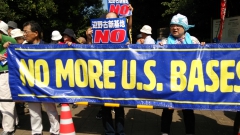 I want to give this song to protestors including myself. "Try Everything" to stop that! The forest is in fact zootopia. There may be monsters like PokeMon! They will "Try Everything" to stop destruction of their world.
22 April 2015
I went to the exhibition of John Fitzgerald Kennedy at National Archives of Japan located near the Imperial Palace in Tokyo.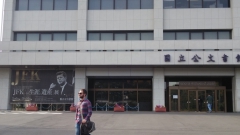 I went there with one old American couple whose young days were when JFK were alive as US President. They told me that the assassination was shocking to them because he was very popular at that time.
The admission was free. It has been held since early March and is scheduled to end May 10, 2015. The description of exhibits are mostly Japanese. So I explained to them what each one of exhibits was about. Actually they knew what they were because those things were very familiar with them already.
I focused on one corner. The exhibits that relate to his relationship with Japan before he became a politician.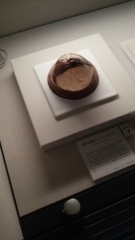 A cononut paperweight and a letter to former enemy.
These things come from his war-time experience in Solomon islands, Southern Pacific 1943. JFK was on torpedo patrol boat with his crews at night. The boat was hit by Japanese naval destroyer, Amagiri and sunk. JFK and his men were all thrown out to the sea but they swam to one island. There they met locals. JFK asked them to deliver a coconut which the message of calling for help was written on to the US military corp. Then he and his men were all saved. By that incident JFK was awarded medals.
After the war, JFK made the coconut into paperweight as a memorial. JFK wrote the letter to former captain of the destroyer, Hanami telling him that he wanted to meet the captain because yesterday's enemy turned today's friend. Later JFK invited him to his presidential election campaign. The captain could not go to the US but his best friend, Onozaki, who was also a crew of the destroyer went. The photo that Onozaki and JFK together were printed out in newspapers in US that might help JFK win the election.
He might have felt saved by the Japanese military. I speculate that the enemy did not shoot at them though they found them in the sea or even gave them a rescue boat or some way to save their lives?
JFK to me has weird relation. When I was in US two decades ago as a college student, some of my classmates said to me that I look like JFK. I was glad to hear that.
I remember when I went to Arlington cemetery in Washington, I could come to his grave without knowing the route, seemed like he invited me.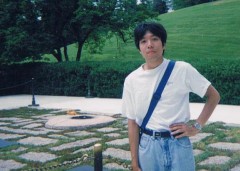 He and I have things in common. I am Catholic and have back pain problem from young days still struggling with it some time. He and I are very much interested in civil rights advocacy.
The memorable thing I saw in the exhibit was his speech film on Civil Right Act in relation to Alabama state's defiance to Federal court order to admit Afro-American students to its state university.
He said,
"We preach freedom around the world, and we mean it, and we cherish our freedom here at home, but are we to say to the world, and much more importantly, to each other that this is the land of the free except for the Negroes; that we have no second-class citizens except Negroes; that we have no class or caste system, no ghettoes, no master race except with respect to Negroes?
Now the time has come for this Nation to fulfill its promise. The events in Birmingham and elsewhere have so increased the cries for equality that no city or State or legislative body can prudently choose to ignore them.
The fires of frustration and discord are burning in every city, North and South, where legal remedies are not at hand. Redress is sought in the streets, in demonstrations, parades, and protests which create tensions and threaten violence and threaten lives.
We face, therefore, a moral crisis as a country and as a people. It cannot be met by repressive police action. It cannot be left to increased demonstrations in the streets. It cannot be quieted by token moves or talk. It is time to act in the Congress, in your State and local legislative body and, above all, in all of our daily lives."
That speech sounds like current President Mr. Obama's endorsement on gay marriage.
After a half century, a new type of civil rights movement seems to be on. The same rhetoric are used for both pros and cons. Majorities vs. Minorities. Conservatives vs. Liberals.
Federal protection law to ban discrimination based on sexual orientation and gender identity has been on debate.
Just like that State of Alabama rejected court order to provide marriage licenses to gay couples.
That is why Obama is called, Black Kennedy. He succeeded JFK's will to protect civil rights.
Interestingly enough, unlike race matter, sexual orientation matter is common worldwide. So America can be a good role model for this issue.
In relation to it, this coming weekend April 25 & 26, 2015, Tokyo celebrates gay pride event in Yoyogi Park that includes street parade. I will actually join it. Last March one ward of Tokyo, Shibuya passed an ordinance that provides partnership certificate to gay couples. The first political accomplishment in Japan's gay movement.
Japan's public opinion regarding gay issue has recently changed.
According to the recent poll conducted by Mainichi Newspaper, majority of Japanese support gay rights, especially among younger generation. More people approve of gay marriage than those who oppose it.
Is it due to what has happened recently in the U.S. ?
Good role model. Hope US keep being good role model for us.
Since I think of JFK, there are 3 songs that come up with. The songs released in the year he was assassinated. Did he hear the songs and enjoy them?
One is related to civil rights movement, "Blowing in the wind", one implies coming of Vietnam war, "Green Green." The other implies the oppression I am facing with many other people regarding US policy which current US Ambassador to Japan, Caroline Kennedy (JFK's daughter) has to deal with.
15:16 Posted in Japan News, Music, Politics, Tokyo Life, US-Japan relationship | Permalink | Comments (0) | Tags: history, jfk, war, homosexuality, gay, lesbian, college days