31 July 2019
I just found a TV drama series "Deutchland 1983" on internet. That was a story in the Cold War Era in Germany, when the nation was divided into two separate states, East Germany, called DDR and West Germany. The protagonist was a young man assigned to spy West Germany military activity disguising a subordinate to the general. In order to get classified information he had to use every element of his life including sex. That was quite thrilling. The story also featured 1980's culture and social matters such as Walkman, AIDS and Ronald Reagan and described how severe life in East Germany was.
It is scary that there was a spy who shared the same language, culture and ancestry but ideology and tried to knock you down inside your own country. It is just like current North and South Korea.
Germany has thrilling history such as Nazis and the division of the nation. It has more interesting topics than any other nations. My interest in foreign nation is shifted from USA to Germany recently. America isn't a very attractive nation any more since Trump is elected as President. Just recently Trump said to his rivaling congresswomen to go back home although they are naturalized citizens. US President cannot tolerant different opinions of theirs. He does not represent a nation that respects freedom. US is becoming like Nazi-Germany and degrading their national image while German chanceller Merkel said she sided with the congresswomen.
I am learning so much about its language, culture, politics, society, history and etc. I think I have to study more. I will watch more German dramas and movies and am excited to do that.
Ich interessiere mich fur Deutchland.
20 March 2019
I bought a DVD of it last year. But I had seen the film many times before I bought that.
The story of an Austrian woman who became a governess for seven children in von-Trappe family and was married to father of the children, Georg von-Trappe and the family became a singing group in 1938. But in the end, they decided to escape from Nazi-Occupied Austria.
The story is based on the true family history.
Songs in the film are all great and became famous. It seemed that is all about music. But the film described what happened in Austria during that time. Annexation of Austria by Nazi-Germany. Annexation was done peacefully and there were many local sympathisers like Rolfe, a boyfriend to the oldest daughter.
Because recent movement in the world is becoming similar to that period, I watch this film from different angle.
Why did people favor such authoritarian regime? What kind of atmosphere was that?
Actually, people were less cautious than they should have been.
That is what you can learn from the film. Good history lesson.
16 May 2018
Have you heard of the term "Dark Tourism"?
This is the tour to spots in which historically or even recently terrible incidents happened. It is not a travel to have fun. Rather it is for travelers to study the past and present for the better future.
I recently found I have done that many times for many years. Actually I've written about some of such trips on this blog.
But here I present photos and name of sites, year I visited.
Pearl Harbour, Hawaii, the site the Japanese military attacked on US Naval Force on 7 of December 1941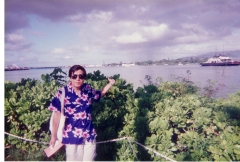 Nanjing China September 2004, the site of Rape of Nanjing in 1937, where the Japanese Imperial Army mass-murdered hundreds of thousands of Chinese including civilians.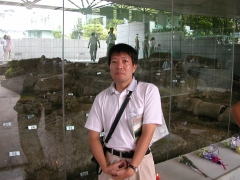 Auschwitz, Poland 2008, Holocaust Death Camp established by Nazi-Germany during the second world war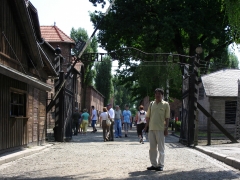 Hacksaw Ridge, in Okinawa, July 2017, A steep cliff, a big battle site between Japan and US during the second world war, where US forces climbed up to the Japanese Imperial Army Base
This incident was adapted to the 2016 film "Hacksaw Ridge." I joined a guide tour of viewing the site where the battle took place.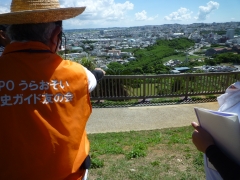 The below photos are taken at The Former Navy Underground Headquarters, which I took in September 2013.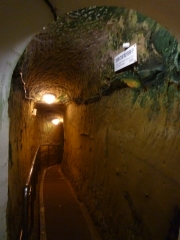 Trace of suicidal bombing by a cheif commander inside the headquarter in the end of the battle.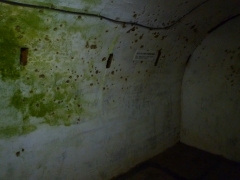 This year's March,
Execution site of 26 Christians in Nagasaki, late 16th century,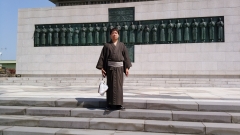 Half blown Torii Gate by the Atomic Bomb dropped on 9 of August 1945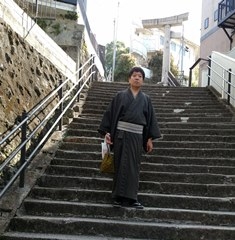 A-Bombing dome in Hiroshima, near Ground Zero of the atomic bomb dropped on 6 of August, 1945
There I met a survivor of the bomb and a German tourist and had local specialty food Okonomiyaki together at a restaurant nearby. I would like to write a mock-documentary script based on that experience.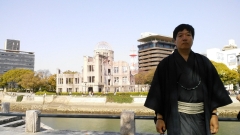 As for the recent matter, gate of Evacuation zone of Crippled Fukushima Nuclear Power Plants that was destroyed by the earthquake and Tsunami in March 2011. I visited there last year's March. Radiation Measure indicated twice higher level than normal. It is like another tour to Chernobyl.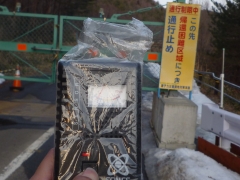 Some claim, visiting those places should not be regarded as Tourism. But I believe this is something we all have to do. Because we are living in a world such things can happen again anytime.
Later I want to show another type of Tourism, which I call "Hot Tourism." Another Study Tour but what you see is currently happening and can join the incidents if you like.
25 May 2017
The film "Race" features life of Jessie Owens, an Afro-American truck and field athlete who won 4 gold medals in 1936 Berlin Olympic game. It was a time that segregation was legal in US and Nazis ruled Germany.
What surprised me was at that time, there was a boycott movement for joining the game. Jessie Owens was asked to boycott the game by NAACP, prominent advocate group for Black people.
But he went to Berlin to participate in the game along with two Jewish athletes, whom Nazis were reluctant to welcome. AOC, American Olympic Committee decided to let US team participate in although opinion among committee members were split. The film implies it was due to the committee leader who collaborated with Nazi-Germany in exchange of big business deal.
Then in the game, two notorious events occurred. In the long jump competition, Owens fouled the jumping in first two of the 3 tries in qualification match. But his German competitior, Luz Long advised him to step back a foot behind the measurement start point. The he did and passed the qualification to the final. Then he won the gold medal marking the Olympic record. After the awarding ceremony, Owens and Long walked on the truck together holding arms looking like good friends. It was very much anti-Nazis action. A white man and a Black man holding arms together walking. Long stood on the podium raising his right hand in the form of Hitler salute. In addition, in that competition, in the third place, bronze medalist was Japanese, Tajima. Actually Japan had medalists in truck and field competition in 1930's. That is far different from what Japanese truck and field society has been lately.
The other thing was two Jewish American athletes in relay competition was removed from the team just in advance of actual competition. It was due to Nazis demand to promote their anti-semitism ideology in the game. AOC leader who collaborated with Nazis was blackmailed to do so, otherwise, the collaboration would be exposed to the public.
Then Owens became a replacement for one of the two atheletes. Then his team won the relay competition.
After he got home, he was welcomed in a parade by a million of people on the street in New York. But he was not allowed to enter to a hotel in which a celebration party was held, so he had to go through back door of the hotel.
Kind of surprising stories in that era. 3 years after the Olympic game, Germany started the 2nd world war. Japan became an ally with Germany. 3 years after the war started, Long, who became Owens' friend died in the war, leaving the message to Owen that he wanted Owen to take care of his son.
How dramatic the stories were! How ugly and beautiful the things were!