29 July 2016
It is happening in Takae district, Higashi Village, Okinawa Island Prefecture, southernmost tropical region in JAPAN. The population of the prefecture is about 1.4 million. 3 hour flight from Tokyo. Kind of remote from main 4 islands of Japan. It is like Hawaii in U.S.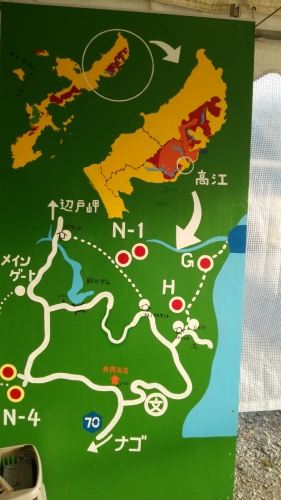 In exchange for return of some portion of US Marine training area indicated in dark red, they demanded building 6 new helipads in the forest near Takae district (circled area), residence of 150 people. The locals have been fighting against the construction project for years. They set tents at gates of construction sites as barricades.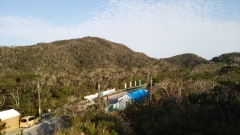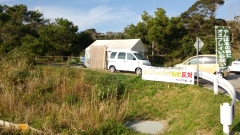 If the new helipad construction is completed, their residential area would be surrounded by helipads of ospreys that cause bigger noise and more frequent accident occurance than helicoptors because of defects of the structure.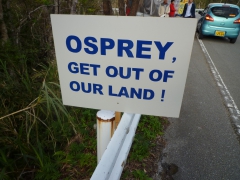 Helipads for ospreys are bigger than helicopters and destroy bigger areas of the forest. The forest is where endangered birds such as Yanbarukuina and Noguchigera inhabit. Not just forest destruction but big noise and heat waves can potentially threaten their lives. The heat waves ospreys release burn grasses on the ground.
2 of 6 helipads N4 were completed already and have been used even though the agreement states new ones would be used after all of them are completed. Then what happened is noise level of Takae district rapidly increased, tens of times more than before. 11 year-old boy got sick and had to evacuate from his local community.
Okinawa had been occupied by US military force between 1945, end of Pacific War and 1972. During Vietnam war, Takae residents were used as VetCon target in the simulation training by the military. Agent Orange may have been sprayed there.
Even after return to Japan, US military bases have remained based on US-Japan defense treaty, agreements between two soreveign nations. In 1996, US and Japanese governments agreed to return some areas of the bases to former land owners and Okinawan communities. But return plans come with relocation plans. Even the military occupied areas is shrunk, the base function gets bigger by providing new bases. Other case is Henoko-Oura bay sea located seaside of Camp Schwab landfill project for the relocation of Futenma base. A beautiful coral sea, where endangered specie, marine mammal dugongs inhabit. This issue have been discussed many time on this blog. Please check articles in Okinawa tag. This article is a good description of the issue.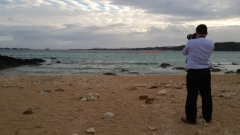 These plans have been met with local protest. Majority of locals dissapprove the plans. Governor of Okinawa Prefecture, Onaga and mayors of Nago city, where Camp Schwab is located, majority of Okinawa prefectural assembly members and all elected members of Japan's parliament from Okinawa constituencies express objection to the landfilling and new base construction plan. As for Takae, last week the construction work resumed, Okinawa assembly made a resolution that the construction should be halted.
Okinawans are fighting against US military and Japanese government that follows its demands.
Last week Japanese government dispatched hundreds of police officers from mainland to suppress local protestants that kept on sit-in at the gate of N1 construction site. Their sit-in protest was once dissolved and their tents and cars as barricades were taken away forcibly but the protest still continued.
Civil activists from all over Japan, and around the globe are backing this. Even in Tokyo, protest activities are going on. Mainstream media reported these events and more people learnt what is going on. Sorry, Americans, more Japanese hate your country.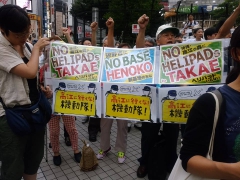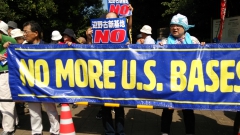 I want to give this song to protestors including myself. "Try Everything" to stop that! The forest is in fact zootopia. There may be monsters like PokeMon! They will "Try Everything" to stop destruction of their world.
30 April 2016
March and April were the big months for anti-nuclear movement of this year. 5th anniversary of Fukushima Daichi nuke plant's accident and 30th anniversary of Chernobyl nuke accident.
Since 5 years ago, Japanese public opinion has turned out to be mostly anti-nuke generation. Before that, survey results are usually pro-nuke generation.
Since that time, terms such as sievert, becquerel, caesium, iodine, plutonium, strontium, thyroid cancer, china syndrome, and etc have become very familiar. Not just with experts but ordinary citizens.
Fukushima Prefecture still suffer from radioactive released from the crippled plants.
I went there last month. I saw the radioactive-level measurement machine in front of railway station located 45 km away from the plant. Neighboring area of Evacuation zone.
That level is double the normal level before the accident. Radioactive still remains.
It is reported that tens of times of higher percentage of thyroid cancer cases are found among minors in Fukushima. That level is similar to Chernobyl which was estimated to release 10 times more radioactives to the environment.
Currently only two plants out of 50 in Kagoshima Prefecture are being operated. Last month two plants in Fukui Prefecture were shut down due to the court order after citizens filed lawsuit against the power company.
In Tokyo, on 5th anniversary day, citizens gathered at prime minister's residence to show their protest.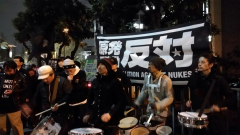 In a corner of a ministry building which is in charge of nuclear energy administration, protestants set up occupy tents to show their will since September 2011. It was modeled after Occupy Wall Street movement.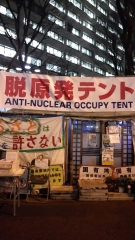 Kan Naoto who was a prime minister at that time interviewed by Asahi Newspaper recently claimed there was a possibility that whole Tokyo area would have become evacuation zone. It was a kind of miracle that it did not go so terrible. It may be attributed to God (or Buddha).
I remember that 5 years ago, I was working and emailing with a client who said the job we were dealing could be worthless because we never knew how our society would have become.
In Chernobyl another centuries are needed to completely dismantled the crippled plant. Thousands years to recover the area to get back to normal zone. As Einstein claimed, humanity and nuclear can never coexist.
Renewable energy has been booming lately. In next decades price of renewable energy will be much lower than nuclear energy.
Nuclear age is coming to end. We must end it!
Not just that, we must change our lifestyle so that we do not need so much energy that we have to rely on such hazardous energy source.
23 January 2016
From last December to beginning of this month, I was in Okinawa to join protest activities of locals who are opposed to construction of new military base runways in US Marine Camp Schwab in Nago city, Okinawa.
Why we are opposed has been described in this blog for years. Please read the posts clicking the tag Okinawa.
Especially, this article gives you outline of what is going on there. My letter to US Ambassador to Japan, Caroline Kennedy, daughter of JFK.
While I joined the protest, I used picket board that says "We are Rosa Parks."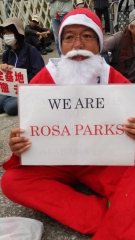 Rosa Parks as you may know, is the symbol of refusal to unjust matters. A Black woman who refused to give front seat to white passengers in a bus and was arrested in Montgomery, Alabama, 1955. But her action sparked bus boycott protest led by Dr. Martin Luther King. 9 years later, civil rights Act was passed. A year after that, Dr. King led peaceful march from Selma to Montgomery to call for enactment of voting rights bill. Black people in the Southern states were blocked at voting registration office.
What surprised me was marines reaction to the picket board. Young marines looked positive. I asked one security guard, who was a young white man inside the camp premise, if he knew what it meant. He said smilingly "I know what it means." One Black man driving a car looked at me, smiled and gestured his support. "Rosa Parks" is known to every American.
I saw the movie, "SELMA" after I got back home in Tokyo. It was a great movie. I found how hard it was for him to do this. A lot of people were hurt and even killed. But he and his followers never gave in.
Interesting thing to know was Dr. King was a very smart man so that he once retreated the march to avoid bloodshed by local police. He filed lawsuit against the Alabama state that bans peaceful march. Then the court made an order to allow the march. He prevailed.
Just like Rosa Parks and Dr. King. we did peaceful protest at the gate of Camp Schwab. Sit-in-protest at the gate that construction vehicles passed through.
Police came and took us from the gate. We never foughtback but just kept sitting down on the ground. I was carried by the police from shoulders to toes.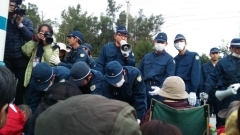 Protestants do every day. It has been going on for years. There were several injuries and arrests. But we still keep doing this. We cannot stop the construction but at least we are delaying that. We will never give in.
While I joined in the sit-in protest, I really felt like Rosa Parks, Dr. King and their followers in their times. We may be backed up by their souls.
Thank you, Dr. King and Ms. Rosa Parks. I am proud of being part of this protest activity.
The US government should hear the voice of protestants and halt such stupid construction project. It is as stupid as segregation laws. It is actually what is happening in your own yard.
15:28 Posted in Ecology, Film, Japan News, Politics, Society, un-USA, US-Japan relationship | Permalink | Comments (0) | Tags: history, military, okinawa, racism, afro-american
12 June 2015
More than a year ago, I switched from the small mobile phone I had been using for more than five years to a cutting-edge smartphone. Almost everyone I knew had already made this change. Among young people, practically everyone uses a smartphone these days, while the users of mobile phones all tend to be in older age brackets.
A smartphone is operated by using its touch screen, but I had heard their batteries soon run out, so I had long been hesitant about getting one. However, my cell phone was getting old and its performance was fading, so I decided that if it had to be replaced, I would get a smartphone. I was surprised at how quickly I figured out how to use it. My new smartphone had so many functions I'd never seen before and was just like using a personal computer, so I became adept at doing various things on it. That in itself is quite impressive, but it recently got me thinking.
I wondered, is it OK to seek such convenient items even more than we already do? Should we constantly worship the latest technology and continue our lifestyles in which we buy one new thing after another? To take the question a step further, will this way of living continue unabated? Surely at some point, we will reach a limit.
I began thinking seriously about these questions after the Fukushima nuclear accident four years ago. How long will this era in which we take electricity for granted, no matter where we are, go on? I wondered about this when I saw towns and cities being thrown into darkness due to a power shortage.
Come to think about it, people began using electricity in their everyday lives only about 100 years ago. In the course of human history, this is merely the last couple of generations. Now we depend so heavily on electricity that civilized society itself would collapse without it.
Despite all this, electricity is actually not easy to produce. Most of it is created from natural resources that exist in limited quantities underground, such as the burning of oil, coal and natural gas, or through a nuclear fission chain reaction using uranium. Truth be told, some of these resources are so scarce that their supplies will run out within a century. Furthermore, using them creates some terrible by-products: burning these resources leads to global warming that generates rapid climate change, and fission runs the risk of radiation leaks as well as producing nuclear waste that will need to be permanently stored and managed.
Wind and solar are recognized as new ways of generating renewable energy, however comparatively the amount of energy produced is much less. Additionally, despite the production of these power generators, natural resources are still needed, therefore it's not all that significant of a contribution.
Eventually, at some point a time will come when we must live off ofmuch less power consumption than we do now. If becomes the case, what should we do?
This has nothing to do with our current generation. There is also the notion of using up natural resources and enjoying ourselves while we still can. This will also bring about a feeling of remorseful towards future descendants.
I think the best answer is to make an effort to promote the reuse of natural resources, increase the share of renewable energy, and develop more energy saving techniques. However, shouldn't we actually address it by moving more towards changing our lifestyles to not use so much electricity. We should be trying to move closer, even if only a little, to a lifestyle that was considered normal up until a century ago, a lifestyle without using energy, and save a livable world for our descendants.
Stop using vending machines, stop having things like 24 hour convenience stores and restaurants. Even stop using neon signs along roads. It's absurd to have cities that are always lit up.Start to curtail unnecessary things.
I think we must become able to enjoy these things, rather than think of them as painful. Last year I had a personal experience that can relate to this, a power saving tea ceremony held at a tea ceremony school. In fact, the tearoom did not use any power at all.
It was the afternoon but we did not use electric lighting, I had macha and sweets in a dark tearoom that was lit up by the mere glow of candles.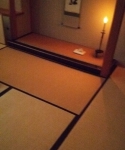 While I sensed the inconvenience and darkness around my hands, at the same time I experienced the elegance of it too. I was able to enjoy flavors in the macha and sweets that were not there before. If I think about it, Sen No Likyu of the warring states period (16th century) who began the tea ceremony must have felt like this, so this was like an experience of the original tea ceremony.
Why not try to gradually move our daily lives closer to this style.
If that happens people will say, what should we do about smart phones and computers, but on the contrary I think this is what we need. It is also for proposing those reactionary, but yet still aiming towards the future kind of lifestyles and spreading them to lots of people.
For those of you who have read this article, why not think it over.