19 June 2011
I went to the Imperial Theatre near the imperial palace to view the stage show of "Gone with the Wind." As you know this is based on America's most famous novel written by Margaret Mitchel. It was written and made into film in 1930's.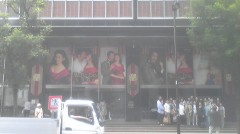 I've seen the film version many times and read some parts of the original novel. The stage show was 2 hours and half long. It was like summarized fairly tale version of the novel and film. It is surprising to know such show was played by Japanese actors. It is like Americans playing Samurai and Geisha.
Overall the show was well-done. I do not have to compare that with the film version or original novel. Stage version has its own flavour. This story has good essence of making good story telling. Like contrast of characters, contrast of situations. Good transition and developments so that viewers can easily follow.
However, I do not enjoy the story as much as before.
The story is in fact, unrealistic in the following points.
1. Egoistic and moody girl like Scarlett could attract so many men.
2. Such spoiled girl growing up in a wealthy family could take care of giving birth of a child and live through turmoil after the war.
3. Such young lady fell in love with much older guy like Rhett.
Furthermore this story has been criticized for romanticizing the slavery time in the South.
Afro-American people were portrayed as loyal slaves reveling with their oppressors. In the original novel the word "nigger" was repeatedly used. There was an event that Scarlett was assaulted by a Afro-American robbery and her second husband, Frank Kennedy took a revenge of that being Koo Klax Kuran.
Indeed the story was written from the viewpoint of conservative white people in the South. Slavery shouldn't be romanticized.
I am recently interested in an actress, Hattie McDaniel in the film version who won Academy Supporting role award. The film was clean-up version compared to the novel. Not using the word "nigger," Scarlett being assaulted by white man instead of Afro-American. Scarlett's Mammy played by McDaniel did played a very important and active role in the film.
I guess it was because the producer Selznick was Jewish and sharing some oppression experience with her. The film was made in 1930's when Nazi-Germany arose in Europe.
McDaniel made a speech that she was glad to receive the award on behalf of Afro-Americans. She did the great job in that sense although she had to play a sterotype role.
I guess it would be more interesting to make a film of how she lived and how she acted in the fim during that time. Such thing should be focused.
On the Stage version I saw slave role actors put black paint on their skin to look like Afro-American. Scarlett screamed at a slave "Kuronbo (meaning Nigger)." Scarlett was assaulted by Afro-American robbery. These are wrong things, aren't they.