24 July 2005
Today is Sunday.
Some of the main streets in Tokyo are open to pedestrians.
It is fun to walk on the road where normally only cars are passing by.
It is also fun to see a performer on the street like below. He was singing a folksong. Not very good though.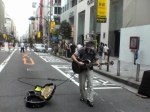 But sorry, what he is doing is illegal. See the below picture.