31 July 2023
French film: "SIMONE, Woman of the Century, We're living in a better world!
I just saw the film at a small theatre in Tokyo.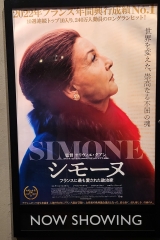 It was a biopic about the French politician who lived through holocaust and after the war became a lawyer and the minister of French government and became the first female president of European Union assembly.
She helped promote women's rights by legalisation of abortion in France, 1970's. She contributed to improvement of prisoners' condition. Why was she so enthusiastic about human rights issues?
The film started with her childhood in Nice with her family living in a happy condition before the second world war. Her family were Jews and believed France would never betray them.
But later her family were arrested by German Gestapo. She, 16-year-old, her sister and mother were deported to Auschwitz. Her brother and father were thought to be executed. The three survived in Auschwitz but they were deported again, and then her mother died in other concentration camp.
After the war, Simone married a man and gave birth to three children studying at a law school in Paris. But she had been traumatized by her experience in the holocaust and couldn't sleep on a bed. Even after the war, she could not tell others about her horrible experience during the war.
But such experiences motivated her to help others in the world. In her old age, she came back to Auschwitz on 60th anniversary of liberation of Auschwitz. She spoke and wrote all about her experience. She insisted that Europe should get united so no more war happens. Surprisingly she had lived in Germany after the war.
The film taught us it is the responsibility of living people to make the world better place and right the wrongs. Indeed, we are living in a better world, at least much better than what she experienced.
I, myself have visited Auschwitz in Poland, and learnt what happened there.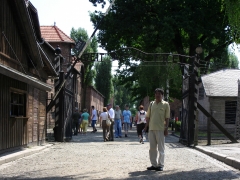 Such history should never be repeated. I felt it is MY responsibility not to let such horrible events happen again.
Sadly, it is happening and very hard to stop that.