25 December 2005
Back from Egypt
I went to Egypt last week. 14 hour flight from Tokyo.
I really had fun visiting pyramids and old ruins.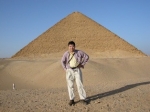 An Egyptian guide I met talked so much about the war in their neighboring country, Iraq.
He repeatedly said to our tour group that the US started the war because they wanted oil, not to provide democracy. He was so emotional about that. I've seen very few American tourists visiting there. I understood why.
I recommend Americans not visit there nowadays although the pyramids and ruins were magnificient.