23 January 2013
Men in Kimono
Aren't they sexy? They are really Japanese men saving Japan's heritage.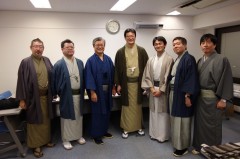 A tall man in the middle is Mr. Hayasaka Iori, who is a male kimono producer. A man in blue kimono next to him is a president of English learning school, CEL English Solutions. The pair held the kimono party in Tokyo on January 14, 2013.
Recently very few Japanese wear kimono. Especially among men, very very few do. So a lot of kimono business went bankrupt. Kimono industry has been shrunk by that.
If more foreigners encourage Japanese men to wear kimono, I think, more of us will wear that.
I would like foreigners visiting Japan to see more men and women in kimono and enjoy.