01 December 2013
My first and last experience in life
I went to one Art drawing workshop. The art of drawing naked human body. I have been to several of such workshop. I drew naked men or women posing on sketchbook.
This time was something different. I, myself became a naked model. I took off all the clothes and stood naked in front of more than 10 people including 3 women.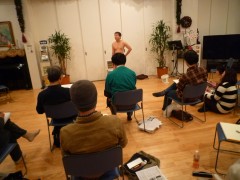 The reason I did that is I should be the one to be drawn to learn better about how to draw others. One should be the object of what he/she draws to know how to draw better. Vice-versa experience or role-reverse game.
It was a very meaningful experience. At first I was embarrassed and nervous but after a while I get used to be looked at. I stood still for 15 minutes and another 15 minutes I sat down on the chair still. I did not even move my head during those times. I felt double length of the time. 2 scenes of naked figure of me was drawn by artists around me. How did they view me?
The result was as follows. I picked 2 drawings as my favourite among more than 10 works. The above is picture I think most beautiful although it did not look like a real figure of me. The other is picture, I think closest image I have about myself.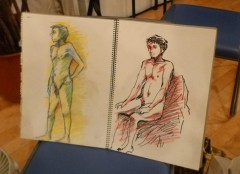 It was a really great experience that I want to share with other people. You learn how others view yourself and find yourself objectively.
However, I will never do that again. Once is good enough.