11 October 2007
I rented a TV drama series DVD "Flipper" this week. What I rented is not original 1960's series, it was 1995 version of it.
In 1960's version, one park warden and his two sons, Sandy and Keith and a dolphin, Flipper were the main characters. In 1995 version, the main character was grown-up Keith, who became a marine biologist and managed a university's research facility. Keith was acted by Brian Wimmer. Jessica Alba was among the cast.
The stories were messy and unrealistic. That is basically kids' show, but the good things for all viewers were the beautiful scenaries and cute dolphins.
I guess Brian Wimmer may be one of major attractions of the drama. In every episode, his half naked body appeared, and in the very first episode, he totally became naked and swam in the dolphins' pool. Targeted viewers may include adult women and gay men.
I've been to Florida a long time ago when I was a college student in U.S. I went there on spring vacation. My brother came over from Japan. We stayed in Miami, and visited Key West. I ate crabs in Miami. I visited Hemingway's house and scuba-dove in the Key West ocean. Unfortunately I could not meet any dolphin. The below photo was taken at Southernmost point symbol with my brother in the Key West.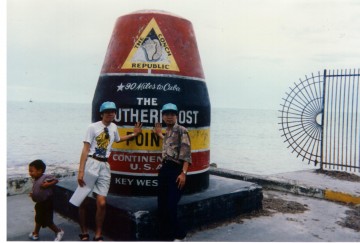 Florida was fun place to visit. I love tropical oceans and beach. When I become an elderly person, I will live in the tropical place like Florida, or Hawaii.