06 December 2007
December 7 is Pearl Habor memorial day for you. For us, it is December 8 because of the time zone difference.
Pearl Habor is famous for the navy base which had been attacked by Japanese imperial army in 1941. More than 2000 GIs were killed.
I visited there when I was in college. I flew to Hawaii from San Francisco. I was there on vacation.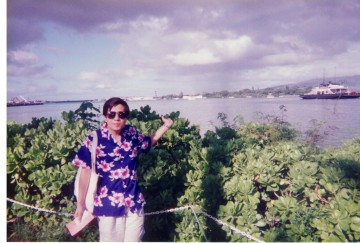 At that time, I was kind of ignorant about history. I did not feel guilty or express condolence to the dead soldiers. Now I do.
People in Japan claim we've had far more casualties than Pearl Harbor by the U.S. air raids afterwards. But historical fact is Japan bombed Chinese cities and killed so many Chinese civilians. That caused the tension between the U.S. and Japan. It was even before Pearl Harbor.
Some Americans consider Pearl Harbor and 911 the similar things. They are NOT.
In Pearl Harbor, the army targeted only naval base, not civilians. In 911, the target was mostly civilians. The terrorists knew the twin buildings contain private companies. Japan declared the war against the U.S. although it was delayed mistakably.
I have been to Hawaii, three times during my college days. Oahu, Maui, Kauai, Big Island. I enjoyed staying there.
I want to come back again.