01 April 2007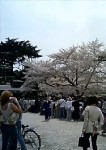 The above photo was taken this afternoon. Many people are making line to buy a ticket to enter the Shinjuku Garden. One of the famous "Cherry blossoms to see" spots in Tokyo. This is also one of the imperial gardens and well maintained. The admission fee is 200 yen. Around 1.5 US$.
I wanted to enter but there were too many people trying to enter. I just gave up. Then I left there.
Last year I remember I could enter without waiting and enjoyed cherry blossoms in the park. You can see the photos taken in the album.