13 May 2006
Last week I went to famous theme park called "Museum Meiji Mura" that exhibites old time buildings in Japan including western style ones which Japan accepted for modernising its society.
It is located in Inuyama, Aichi Japan (Prefecture in the middle region of Japan, 2 hour SuperExpress train ride from Japan). Please look at http://www.meijimura.com/english/index-e.html
There were beautiful buildings that were transported from where it was. One of the most famous ones is the former Imperial Hotel building which was built in Tokyo, 1923. Only Entrance Hall and the Lobby were exhibited. It was designed by famous American architect named Frank Lloyd Wright. This building experienced a very big earthquake occurred in the year its contruction was completed but it survived.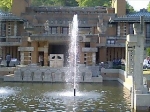 The inside is below.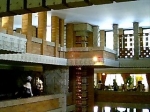 It was like a Retro trip.