20 March 2005
I will be flying to China!!
Dear Bloggers,

Thanks for reading my posts!

I am flying to China for a few weeks. I might not be able to add any post until I come back home.

I might be able to add a post from China.

Anyway, I'll be reporting my trip to China to you. Please look forward to reading new stories.

The attached picture is Southern China's biggest city, Shanghai, where I went last time.

This time I am visiting Beijing and neighboring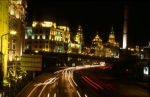 cities.