28 November 2006
Went to Billy Joel's Live Concert in Tokyo Dome
20 years ago, I was a big fan of Billy Joel. That was when I was in secondary school.
At that time I did not live in a big city where a big star like him would come. Now I live in Tokyo.
I bought a ticket that cost 10500 yen ($85). Actually I am not his fan any more but somewhere inside me I still wanted to see his performance.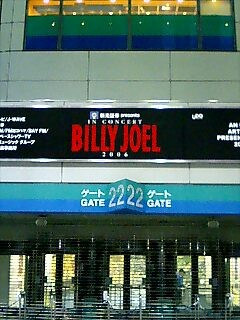 Indeed his performance was as great as I expected. He was 2-300 meters away from where I was standing. But I still could see him moving on the stage, drinking water while singing. He got older, and bald. But he was very energetic. I could not believe he is close to 60 years old. He sang the songs I know, and I still remember although I haven't heard it for years.
Just the way you are!
Stranger!
Big shot!
New York State of Mine,
Allentown
In the middle of Night
My life
Honesty
Innocent Man
And other songs I still know but could not remember title of it.
The last song he sang was kind of his debut song "Piano Man."
He sang playing piano by his hands and whistling harmonica set on his shoulders.
"Sing a song, Piano man, Sing a song tonight."
Unfortunately my favorite among all, "Uptown Girl" was not sung.
The dome was almost filled with tens of thousands of spectators.
I realized he is still a big star to me!
Thank you, Billy.