28 November 2007
I rented the DVD of Morgan Spurlock's reality program titled "30 Days." People in the program experience different worlds including film producer Spurlock himself. He is tall and looks like cock bird.
I first know him by the film "Supersize me." The show described his experience of eating only McDonald's hamburgers for 30 days. He described the obessity issue of America. How McDonald made Americans so fat and unhealthy.
After the success of this film, he then made the documentary programs with the same rule, that is people experience different worlds for 30 days.
There are 3 programs I liked.
1. Morgan and his girlfriend decided to live their lives by minimum wage. They learned minimum wage cannot support standard level of lives and the law should be amended to increase the minimum wage level. If you would be so poor that you cannot even afford to see a doctor.
2. An atheist woman lived in dedicated Christian family's home. There are not so many atheists in America, whereas in my country most people are. Dedicated Buhdists, Christians and other believers are minority and sometimes regarded as weird. In the U.S. Chrisitanity has strong influence in life. Christians cannot understand atheist way of living. Atheists feel oppressed in America. Kind of surprising to us, because America is a new country, why is it so religious?
3. The most impressive program, Cuban immigrant American who came to the U.S. legally when he was a child lived with illegal immigrants family. The Cuban man hates illegal immigrants and supports the governments tougher measure on the illegal immigrants. The family was just normal and happy loving people. The oldest girl was brilliant and thinking about going to the college. It was a big surprise to know that illegal immigrant girl could go to high school and got good grades and participate in golf tournament. Her school teacher supported her goals to achieve. She applied for Princeton and local college.
When I was in California, during 1990's, there was a referendum named Proposition 187, that bans providing services to illegal immigrants. There was a big anti-immigrants movement going on. I kind of understood people's anger towards illegal immigrants. They did not come to the U.S. legally. I never consider them good citizens.
In the program, the Cuban man went to Mexico to meet the relatives of the illegal immigrants family. Where they used to live was like rubble, I could understand why millions of Mexicans crossed the border just like the Cuban man did.
Blaming them cannot really solve this problem. This is the issue of global economy.
The program may include some kind of set-ups just like other documentary shows. But you can learn the importance of learning different worlds by real experiences.
Thank you, Morgan.
22 November 2007
I was surprised to know an American actor who is famous for acting British sailor who arrived in 17th century Japan in the famous TV mini-seires "Shogun" was gay. He came out 4 years ago on TV interview program. If you want to know more about it, please visit this site.
In the mini-series, he made very impressive line of dialog. A British sailor named John Blackthorne was saved by Samurai lord. A woman who took care of him was so worried about his health. She recommended him to do pillowing with a woman or women. But he declined. Then a woman said "how about boys?"
Blackthorne was upset and said "I am not God Cursed Sodomite. My intimate customs doesn't include boys."
But the actor who played that role was. Very strange.
In the interview, he said that he was so enthusiastic about playing that role and worked so hard getting the job because at that time Sean Connery was a big candidate.
Why was he so enthusiastic? He said he read the novel of the "Shogun." Maybe he learned what was Samurai's sexual life was by the book. As I described in this post, Japanese men's sexuality in the medieval to pre-modern period was bi-sexual. Samurai lords had gay lovers very openly. Some of their love stories became legends. The head of Japan, Shogun did have gay love affairs with his retainers.
Maybe Mr. Chamberlain wanted to jump into the period and the country where his way of loving people was considered normal.
His act in the mini-series was very realistic and convincing. He really wanted to be Samurai. Samurai was free sex lover.
By the way, there was also a famous actor who came out as gay and is related to our country. Mr. George Takei, who played an important role in "Star Trek." I am very surprised to know that, too. I've seen him more than 10 years ago in Japan Town, San Francisco. I remembered he made a speech about Japanese Americans rights and harsh history.
If you want to know about him, please visit this site.
11 November 2007
I rented a DVD movie "The Queen." The story is about Queen Elizabeth of Britain during first week just after Diana's death. How the queen struggled with the public outside the castle.
After I saw the film, I sympathized with the queen. Yes. It is true Diana was just a civilian after the divorce. Why should the royal family express condolence in public? Media and the ordinarly people were just stupid. They were manipulated by the image of Diana. They never know what she really was.
If Diana couldn't fit herself into the royal customs, she shouldn't have to be married to Charles.
After all, the queen had to compromise with the public opinion and make comments to express the condolence. This was against the rules of her royal tradition.
I remember none of Japanese imperial family member attended the funeral because Diana was no longer the royal family member.
Monarchy may have to be abolished. The same things has been said about our monarchy system. The Princess Masako has been shattered from the public since she was criticized for not giving a birth to a boy. She has a daughter but the law does not allow a woman to succeed the throne. She might want to get away from the royal family.
The problem was resolved after the Prince's brother got a son.
Well, but I guess it is too early to abolish the monarchy because some people still like it. But it is ridiculous that one becomes the idol for the people just because he or she was born to be.
But that is how the system works.
10 November 2007
It is getting cold lately. A winter is coming close. I do not like winter except that I can go out and ski.
I have good memories of skiing.
During my college days in the U.S., I visited Colorado to ski 3 times. The same ski resort, Steamboat.
It was college's students ski tour. In the first time we travelled by Amtrack. I remeber it was more than a half day trip from Auckland. Crazily long and boring. 2nd time and 3rd time we went there by plane. Less than 4 hours.
On 1st time trip, since I had never skied before so I took 1 day ski lesson and that enabled me to ski very well afterwards. Steamboat was a huge ski resort. Even I stayed there for 5 days, I couldn't ski on all of the courses there.
The photo was taken there.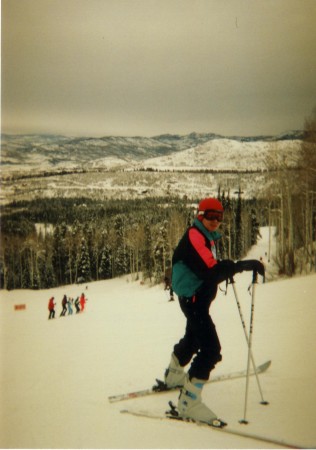 Other place I skied than Steamboat was Zermatt in Switzerland. I skied there in August seeing the view of Matterhorn.
But not as good as Steamboat, because the ski zones were limited because it was summer.
Well, now I get older, I don't think I want to go out and ski somewhere. There are many good ski resorts in Japan. But not as good as Steamboat or Zermatt. I don't want to get in crowded ski bus or trains to get to a crowded ski resort.
As it gets cold, I would stay longer at home watching DVDs. I rented an old Charlie Angels' drama episode that Angels went to Veil in Colorado to bodyguard a foreign important person. Kate Jackson (or lookalike) skied chasing a criminal very well.
That brought me back Steamboat memories, too.
Skiing is what you have to do NOW. As the whole earth gets warmer, more and more ski slopes are being closed. We wouldn't be enjoying skiing in near future. Maybe we should ski on artificial snow ground.
I was lucky I could enjoy skiing on real snow. It was high quality powder snow. I remember I could not make a snowball out of it.