04 April 2016
The story is about debate between a dedicated Christian college student and an atheist college professor.
The professor demanded all the students in his course to write "God is dead" following Nietzche words.
But one student protested. Then he was told to explain why he did to the class.
In the end, Christian prevailed and atheists were portrayed as evil.
First half of the film, I was very attracted to the theme of the film but latter half, I found that I had been deceived.
It seems for Christians, atheists are immoral people. Is Christianity so divine? Maybe for westerners, it is foundation of the society. But not for atheist, polytheist Shinto, Budhist or sometimes Christian Japanese like me.
However, it was great opportunity to learn how conservative Christians think about their own faith.
For them, Christian is superior to any other religion. Once one joins Christian organization, it doesn't matter if s/he has different background and they help each other.
It gives them happier life than others.
But scary thing is being big on it could somtimes lead to oppressing others. Once one believes in Jesus Christ, others would be just evils. Among them, atheists, who don't have faith at all are worst. That means such people are to be persecuted.
But didn't Jesus Christ say "Love your neighbors"? Only within their community?
24 December 2013
The novel was written by Japan's most notable novelist in 20th century, Endo Shusaku.
Recently the news that Hollywood decided to make the story into film next year was reported. The setting of the story was early 17th century of Nagasaki, Japan when the government ruled ban on Chrisitianity and entry of foreigners except Chinese and Dutch. That policy was aimed to get rid of western influence on its society in order to avoid colonization. Dutch was neutral as for this matter. Dutch hated Catholic nations and advised Japanese government to stop trading with Catholic nations.
The story started with a news that one most prominent and highly respected missionary sent to Japan abandoned his faith after severe torturing by Japanese authority. That shocked two Portuguese Catholic priests. They decided to secretly enter into one secretly Christian village in order to locate the missionary and continue Chrisian preaching for the localies.
However, they were found and arrested by Nagasaki authority and then their followers were tortured to death. One of the two died. One surviving one prayed God for his tortured followers but no salvage was done. God kept silence.
Later he finally met the person he wanted to meet from the beginning. The missionary he once respected whom he tried to locate. He was advised by the missionary to abandon his faith just as he did. Then he followed his advise. What he did was stepping on plate of engraved Jesus Christ picture. That was most usual custom to check if a person is Christian or not in those days. If you could do that, that proved you were never Christian or you just abandone your faith by doing so. He stepped on it to save tortured followers. It was a deal with the authority.
Since that era, Japanese Christian teaching was totally abandoned until it was re-allowed in late 19th century.
Surprisingly the story is based on real characters and real events. In the book the authority says "Christianity can never place roots on Japanese land. It is never universal teaching." That sounds true.
In fact centuries after that era, even after freedom of faith was insured by the constitution, less than 1 % of the population are Christian today. More surprisingly in this season you can veiw many illumination and Christmas trees and find Christmas events in Tokyo. But very few of them are dedicated Christians. Japanese Christmas events are nothing but commercial purpose.
One remain of Christianity of that era may be tea ceremony. There is a legend that Japanese tea ceremony was modeled after Christian mass ceremony in that era. In fact founder of tea ceremony, Sen no Rikyu was a man of the era that Christianity was still allowed and his wife and daughter were Christian.
If that is true, Christianity was continued throughout banned era. The root was placed. Praise Jesus and Praise tea!
05 January 2011
I watched documentary program on America's new movement in relation to 10th anniversary of 911 attack. In New York, there is a big controversy over opening of new Islamic Center located 2 blocks away from Ground Zero. People overlap image of Al Quaida with Islam.
Anti-Islam activist, Pamela Geller was interviewed by a Japanese journalist. She said "It is not a matter of freedom of faith, it is a matter of emotion. Why should we figure them out? It should be defeated."
Sounds scary! After I watched the program on TV, I accessed her blog and emailed her the below question.
"Your response and comments sound like what Nazi people said to Jews.
Aren't you using the same propaganda as Nazis did? Aren't you creating another holocaust like Israel is doing on Palestineans?"
Her response as follows,
"The Jews weren't blowing people up, slaughtering thousands in countries across the world, and killing their own if not devout enough.
Get a grip on reality."
Pamela Geller is Jewish American according to her blog.

According to the program, people like her is getting popularity. I think it is not just because of terror threat but also frustration caused by bad economy and failed wars. This is like 1930's Germany when Anti-Jew propaganda had been common like the below photo.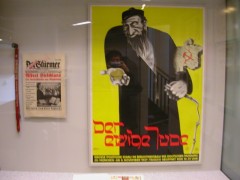 This time, the target is Muslims or Arabians.

Well, America is becoming like Nazi-Germany. It is devastating.

It is time for us to make a distance from America or totally stay away from the country.

America is no longer place of tolerance. It is becoming dangerous.
03 May 2009
A woman named Hester lived in a small Puritan Village in 17th century had been accused of adultfully. She had to wear scarlet letter "A" all the time because of the sin she committed. She and her daughter, Pearl were always harrassed by the villagers.
Local villagers and its headman wanted to know who was the father of Pearl. At last the villagers found who he was and got shocked.
It seemed that the film revealed the true nature of America. The origin of America was Puritans. Puritans were exiles from England.
They lived under the faith of God because of fear they experienced in England. They created a very closed society with very strict rules. As a result they became hypocrits.
In last scene of the film, Hester and Pearl ran away from the land of hypocrisy, not freedom.
That represents feeling I have right now. I am losing interest in America and growing contempt for it.
American is not a dream country to me any more since 911, war in Iraq, deployment of USS George Washington in Yokosuka, and financial crisis.
Good-bye, America! A country of Hypocrisy!
Now I wonder where I am heading. The film gave me a hint.
The film was produced by Germans. It was all German version although the story took place in America.
It is just like holocaust films in English version made by Hollywood.
I am now studying German and getting more interested in Germany than ever.