24 May 2008
George Washington, Never, never come to Japan
Breaking News came up!
Nuclear aircraft carrier, CVN "George Washington" has caught a fire on the sea near South America. US Navy told the press it took hours to distinguish the fire. No damage on the nuclear reactor was reported. No affect on navigation. The navy will transport the ship to the Yokosuka city as scheduled.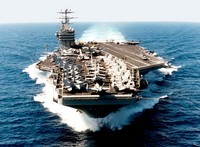 FUC K US NAVY!
Taking hours to distinguish the fire, this is very abnormal situation for the navy ship. We don't want such fragile and abnormal ship near us. Actually there is no need for that stupid ship in our country's security. As I mentioned in this article, the only reason US military stays in our country is cheaper cost by our tax.
The carrier will be deployed in Yokosuka, middle August and if an accident happens again! They will destroy our land. The ship will be the Third Atomic Bomb!
This is the end of US-Japan relationship.
"George Washington" should not come! The ship will meet unwelcome atmosphere by Yokosuka citizens. This will expand anti-US sentiment all over Japan. The U.S. Navy will make most stupid choice in its history.
"Yankees, go home! Do not pollute our land and kill us in the name of "Defense.""
Answer to Pritcht,
The information you get all comes from the military. Please see this video clip on You Tube.