27 September 2008
Finally, THIRD ATOMIC BOMB arrived!
After all the criticism and protests, the ship came, most dangerous ship in the world, CVN73 George Washington arrived in Yokosuka port on 25 of September, 2008. Yokosuka is 20 miles away from Japan's capital, Tokyo.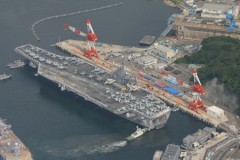 They've got a fire incident during the navigation on the sea near South America and the deployment was delayed for more than a month for the repairment. It contains nuclear reactor and is navigated by nuclear power.
Citiznes in Tokyo capital region including me have to live with fear of nuclear accident like Chernobyl from now on.
Why is it deployed in Japan? To counter the threat of Chinese navy.
What? Isn't China No.1 owner of U.S. Treasury bonds? They buy Boeing airplanes, Motorolla cellphones and other U.S. goods. They buy more than Japan does.
The U.S. navy commander said the navy is ready to help China build new aircraft carrier.
Are we protected from China by the country which is financially supported by China, deals big business with China and sell weapons to China?
This is just stupid. Well, after all, this is Japanese government's fault. Only if they could oppose the deployment, the U.S. wouldn't want to do that. They use bases in Japan as cheaper facilities because we are providing aid to them. Once Japanese government stops funding them, they would not want to use the bases.
Well, what we have to do is continue protesting and letting the ship go back home as soon as possible. Even mayor of Yokosuka said "I welcome the crews but not the ship."