15 September 2008
Visited the Shrine for the Shogun's grave
On 14 of September, Sunday, I visited Japan's most famous shrine in Nikko city, which is 2 hour train ride from Tokyo.
It is called Nikko-Toshogu. The shrine was established for the grave of the Shogun, Tokugawa Ieyasu, who established Tokugawa dynasty in early 17th century. The dynasty established unified Japan. He placed Japan's capital in Tokyo, which was called Edo at that time.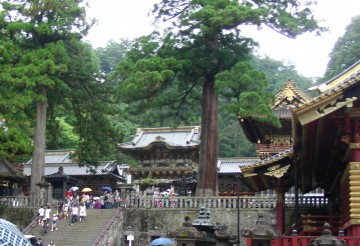 The reason I went there is not just to enjoy the views of the shrine but to pray the Budha or enshrined spirits to protect Tokyo capital region. The shrine is said to be built to forever protect Tokyo capital region. Tokyo is now in dangerous period because the dangerous ship of barbarians are coming and to be anchored very soon. Read this article.
The views of the shrine was magnificient. I really enjoyed. A lot of foreign tourists were there. The decorations of the shrine's gate and walls are very artisitic. The statues of Budha, engraves, paintings, all satisfied my expectations. The shrines decorations are relatively flashy compared with typical shrines in Japan. But they are still Japanese and outcompete Chinese temples or old buildings. I really found another type of Japanese beauty.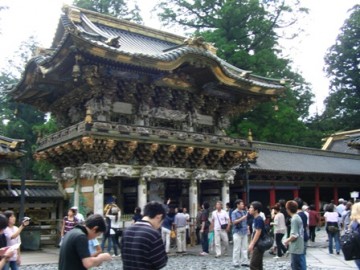 Next to this shrine is third Shogun, Tokugawa Iemitsu's grave shrine. He is grandson of Ieyasu. Iemitsu in fact established foundamental systems and rules of the dynasty that ran 15 generations, more than 260 years such as seclusion, banning of Christianity and alternate year attendance for regional lords. Those things were done to prevent colonization by the West and separation of the country. He really was great Shogun. Interesting thing is he was known to be very gay Shogun. Although as Shogun, he could have many girls to sleep with, he never made any successor until middle age. He had gay relationship with his retainers. It was openly done because being gay was not conceived inmoral thing in those days. When he died, one samurai lord committed suicide because he was very loyal to him and had strong love relationship with Iemitsu. Well, that is how Japanese samurais were different from western knights.
The below is video clip of the visit on You Tube.