22 November 2008
"Navy Burger" No thanks
50 days after the departure from Yokosuka base since the deployment in September, the dangerous and troublesome ship came back.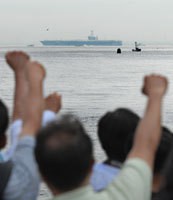 CVN 73, USS George Washinton, Nuclear Aircraft Carrier which navigate by nuclear reactors. They are deployed in Yokosuka which is near Japan's capital Tokyo.
They know they are not welcome by the citizens in Yokosuka.
Then they came up with very stupid idea, that is inventing "Navy Burger" and release it as the city's new highlighted good like "Navy Curry" whose recipe is modeled after Japanese imperial navy's curry meal and it has been popular for many years.
The mayor and chief commander of Yokosuka base jointly presented the burger to be released next year.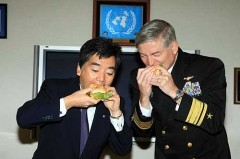 American beef would be contained? No thanks, I don't want to get mad cow disease. Even it contains safe Aussie beef like McDonald in Japan. I still want to refuse it. Not only because I am not hamberger eater but I keep resisting CVN 73, George Washington because of the fear of radioactive release by an accident or earthquake.
They have done similar thing already such as free stupid comic books, which the story is untrue and very propagated.
Do they think people are easily distracted by such foolish event?
The only way they can be welcome is cancel the deployment and leave Japan as soon as possible.
Well, what we can do is demand our government to stop funding foreign troops stationed only for cheaper expense.
Dear Jim,
Interesting fact: China is largest foreign owner of U.S. treasury bonds. Japan is No.2 owner.
China buys more U.S. goods such as Boeing and intel chips than Japan does. Everyone knows that the U.S. wouldn't help Japan even if China attacks Japan. U.S. commander, Mr. Keating said they would like to help Chinese army build aircraft carriers. Great! We would be defended by the army that is helping our enemy.