04 August 2008
Stupid comic book and Fireworks
On 2nd of August, I went to U.S. Navy Base in Yokosuka city, 30 kilometers from Tokyo.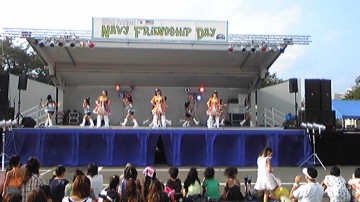 On that day, "Navy Friendship Day" festival was held there. "Friendship?" Huh? Are they our friends?
The navy is bringing very dangerous ship to the sea near our capital. That is CVN 73, George Washington.
They were providing comic books that describe life of the crews, how much they are excited to live in Japan, how much they love Japan. Such a cliche just irritated me.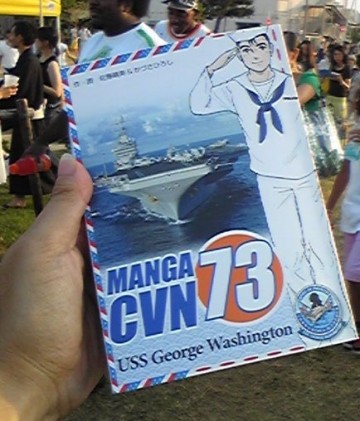 In fact the story were all fiction including the scene of the fire in laundry room. A crew extinguished the fire from a dryer immediately and prevented it from spreading.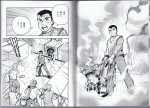 In May the CVN 73 caught a big fire on the sea near South America. The fire spread out to 80 compartments in the ship. It took 12 hours to extinguish the fire. The cause of the fire was announced 2 months later and it was from cigarette in non-smoking area. The fire was flashed off flammable fuels near it. The fuels were placed in prohibited area.
The morale of the crews was proved to be terrible. We can never rely on such crews for controlling the dangerous nuclear ship. I've already written a post about danger of nuclear aircraft carrier on this blog several times. I also posted You Tube video clip for this issue.
At night I saw fireworks lighting over the sea. It was very beautiful scene. I really enjoyed especially because I could see it lying on the football field inside the base.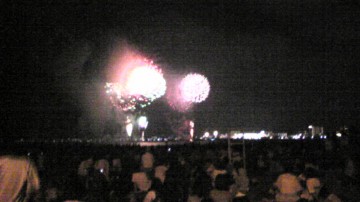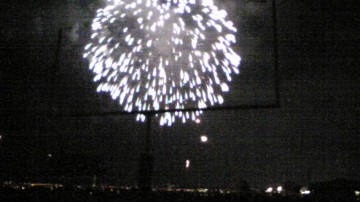 The cost of maintaining the base facilities came from our tax. If they are protecting our land, I wouldn't care. But they just use that for their purposes and threaten our lives. We don't want them around us any more.
America should change their policy. They have to care about their own people rather than people outside their country. Abondon foreign bases and go back to traditional isolationism.
Last month I saw the documentary film featuring the U.S. soldiers and their miserable lives. The title was "AMERICA BANZAI, crazy as usual." The film featured Iraq war veterans who ended up being homeless after they came back home. Young soldier who refused to go to Iraq and dishonorably discharged. I hope this would be shown in the U.S. The director of the film is Japanese.
Living as American seems so hard except being Paris Hilton.