11 February 2009
Anxious to see the film "John Rabe"
In Berlin film festival, a very controversial film would be shown.
The title is "John Rabe." The story of German business man who saved tens of thousands of Chinese in Nanking when the city was invaded by Japanese imperial army. He and other westerners set up International Safety zone in the center of the city. He became the leader of the committee that managed the zone. He is like Oskar Schindler in China.
The movie is scheduled to be released in April in Germany and China. Release in Japan seemed not be determined.
I think it should be shown in Japan, too at least in mini-theatres or civil conventions like No More Nanjing people did last December.
Please see the article for that event.
In September 2004, I actually visited the house Rabe lived.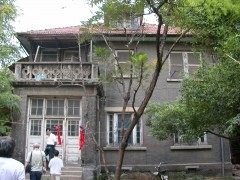 It may be very hard for Japanese to see the bad past.
Many right wingers denied the existence of the massacre. They say Rabe was liar.
John Rabe was kind of complicated figure of the history. He was loyal to Nazism. He used Nazi flag to avoid bombing from Japanese army. He reported Nazi officials the atrocities in Nanking. But he was detained and interrogated by that act because Germany at that time was allied with Japan. Actually Nazis has done more of Nanking things so called "Holocaust" afterwards.
The film would be very interesting in the sense a good man loyal to the evil organization has done good thing. The below is trailer of the film.