22 February 2009
Well, very surprising! The movie was made in 1940 but the most important character was Black boy.
It was midst of World War I.
The story is a boy named Abu who lived his life by stealing things in Baghdad, met a young ousted king, Ahmad. Ahmad fell in love with a princess in Basra. Jaffar who was a closest retainer and ousted him to take over the position wanted the princess, too. Abu tried to help Ahmad and the princess. Then at last he killed a bad guy, Jaffar and saved the couple and had Ahmad to bring back his position, the king of Baghdad so that he could rule the kingdom peacefully. Ahmad said he wanted not to conquer the people but make them all happy.
Jaffar was Hitler at that time, or Hussein between 1979 and 2003, No! It is Mr. George W. Bush. Real war criminal.
Looked like a real story, I hope. Abu actually looked like Barak Obama, president of the United States.
Abu was a thief but very clever and brave. This was very different from a stereotypical Black character made by Hollywood. In fact it was British film.
In the last scene, Abu flew on the flying carpet and said to the king "I will go on a trip to find out what I want to do."
Well, the destination may be where Mr. Barak Obama is.
11 February 2009
In Berlin film festival, a very controversial film would be shown.
The title is "John Rabe." The story of German business man who saved tens of thousands of Chinese in Nanking when the city was invaded by Japanese imperial army. He and other westerners set up International Safety zone in the center of the city. He became the leader of the committee that managed the zone. He is like Oskar Schindler in China.
The movie is scheduled to be released in April in Germany and China. Release in Japan seemed not be determined.
I think it should be shown in Japan, too at least in mini-theatres or civil conventions like No More Nanjing people did last December.
Please see the article for that event.
In September 2004, I actually visited the house Rabe lived.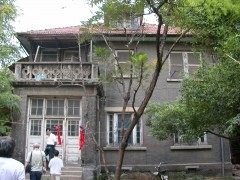 It may be very hard for Japanese to see the bad past.
Many right wingers denied the existence of the massacre. They say Rabe was liar.
John Rabe was kind of complicated figure of the history. He was loyal to Nazism. He used Nazi flag to avoid bombing from Japanese army. He reported Nazi officials the atrocities in Nanking. But he was detained and interrogated by that act because Germany at that time was allied with Japan. Actually Nazis has done more of Nanking things so called "Holocaust" afterwards.
The film would be very interesting in the sense a good man loyal to the evil organization has done good thing. The below is trailer of the film.
06 February 2009
As Obama said in his inauguration speech, "we ask today is not whether our government is too big or too small, but whether it works," good economical system does not mean capitalist economy.
As I recall my macro-economy course in U.S., definition of economy is "rational economy of wealth."
If only small number of people get most of the wealth, they would save most of what they earn, not using for consumption because they cannot do that even though they like jet-set life style. If the same amount of wealth was allocated to millions of workers, it will be all used up and circulated in the market and rejuvenate the whole economy.
Free economy, trickle down theory are old fashion ideas. Neo-liberalist economy resulted in today's financial crisis.
That doesn't mean socialist economy is better, it leads shortage of the goods like what happened in former Soviet Union.
Let's think about third way to create better system.