10 April 2009
Skiing in April
Not high-season any more, but you can do that on Shiga Highland, Nagano Prefecture, 2 hours and half train ride and 1 hour and half bus ride from Tokyo.
It was for me first time in 14 years. Last time was 1995 in Brockenridge, Colorado in that year's January and Zelmatt, Switzerland in August.
That was really fun. Acutually this time was first time I skied in Japan.
Skiing has changed since then. Snowboarding became more popular and new type of ski boards, curving skiing which is shorter and round shape are now commonly used. I used this new type of skiing equipment.
The photo is what I took from the top of the slope. The highland was very beautiful.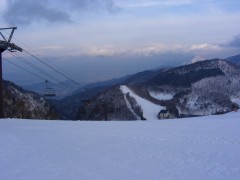 The town was also famous for hot springs. I bathed very good hot spring. The big bath room had big glass window that I could enjoy spectacular view of highland's snow mountain. That was awesome experience.
Skiing is not as popular as it used to be. It was very popular at the time of big economy boom between late 1980's and early 1990's.
The boom in the past was caused by the popular movie "Watashiwo-Ski-ni-Tsuretette (Take me out to Snow Land)."
I was impressed by the movie and decided to join the ski tour. Not only the skiing scenes were great but youngsters' life in the film was nice.
At that time youngsters could afford a nice sporty car to drive to ski slopes from a city on vacation and rent a lodge holding parties.
Now youngsters are struggling with their working-poor conditions. I skied and envied the life of ski boom period.
The below is You Tube clip of the Ski Slope I videotaped. Ski slope was really empty and I never had to worry about bumping to other skiers.