18 April 2009
Japan's New Hero!?
Months have passed since Tamogami was dismissed due to his public essay which justified Japan's aggression in Asia and Pacific during WW 2 and then thrown into the spotlight in November last year. During this time, we have heard much criticism, mostly negative, about Tamogami and his essay in the media. But his popularity is high and he has published several books and appeared media outlet so many times.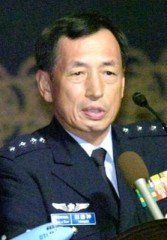 The fundamental errors in Tamogami's take on history have been pointed out, and there have been murmurs of doubt between intellectuals about his ability to lead the Self-Defense Forces. This man is being regarded as a demagogue who was not even competent enough to launch a coup.

 However, similar criticism was placed on military politician Adolf Hilter who appeared in Germany after World War I. People said that a worthless guy like him will never be able to take over the country. But he did. Intellectuals completely underestimated his power.

 I cannot agree with Tamogami's historical views whatsoever. They are obviously mistaken. For some reason, however, I feel very emotional when I hear him speak. This can likely be said for a lot of people, not just myself. One senses that he has the ability to relieve our discontent with the current situation. It is the feeling of worry for our country, no matter what our position. It is not so much the actual meaning of his words that is important, but rather the desire to share his passion.

 In fact, the current state of Japan is similar to that of the Weimar Republic of Germany. The recession is deepening, and frustration with a government that is weak in foreign diplomacy is swelling. I myself feel very frustrated with the Japanese and American governments that are essentially renouncing our sovereignty by deploying a home port for a nuclear-powered air craft carrier in Yokosuka. As a result, I feel a grain of hope hearing Tamogami's words that advocate revising the constitution to allow for a defense system that is independent from the United States.

 However, we must be careful not to fall for his words too easily. He is harming our national interests with his clearly mistaken actions. It is unfortunate that this may have been the only way for him to catch the interest of the Japanese people in Japan's current situation. Its is pathetic. Politicians and intellectuals are always promoting themselves under the pretense of helping others and eluding arguments that get to the heart of the matter.

 In this case, those who see Tamogami as a threat must consider circumstances equally as seriously as he does and intend to actually implement that reform. Ideologies where one simply prays for peace because of a distaste for war will lose in the battle with reality.
Regarding my frustration with deployment of a nuclear powered aircraft carrier in Yokosuka, the below describes the issue.