25 December 2010
Skiing and remembering ski scenes in the films
Ski season started. I am crazy about skiing. The below picture is taken at Kagura Ski resort in Niigata Prefecture.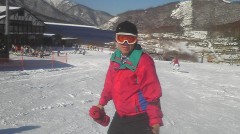 Why I started skiing, it is simple. Some film made me want to ski and enjoy ski resort.
The first one I saw was "Take me out to snowland (1987)"
It was shown when I was in high school. The story took place in Shiga Kogen, one of Japan's biggest ski resort.
But strangely where I first skied was not in Japan, it was in Colorado, US.
Well, I suppose I skied like that film. Ski episode in my most favourite American TV show.
I will ski more later but only in Japan. My passport already expired. But some day I will come back to the U.S. to ski again and also visit Austria to ski. The greatest skiing place in Europe, actually this country exported skiing to Japan. Next year will be a century anniversary of introduction of skiing to Japan.