15 December 2010
Assange was arrested, next is me?
I guess not, but I did kind of similar thing to what he did. But much more minor scale.
An Australian whistle blower site manager, a former hacker was arrested for alleged sexual offense filed by Swedish police. Since US government information he leaked in collaboration with US military serviceman caused turmoil worldwide, this arrest is considered politically motivated. I think it is.
I secretly interviewed with US miliatary serviceman in order to get sensitive information of his organization.
If you are interested, please read the below article.
Interview with CVN 73 Nuclear Reactor Crew
What Mr. Assage has done is controversial, can it be part of free speech or promotion for transparency government, or threatening national security?
It is interesting to know there are people in the U.S., who support Assange. That is great thing about the U.S. Micheal Moore is one of them.
As Moore describes, what if some necessary information was open in public, we could have avoided tragedy or change the course of the country. History tells that is true.
Last Sunday I attended the speech event of Nanjing massacre survivor. The massacre was committed by former Japanese imperial army in former capital of China, Nanjing, December 1937. Her parents were shot to death by Japanese army men when her family evacuated to the air-raid shelter. They found the evacuees and shot bullets to them from the shelter entrance by machine gun. Later they poured gasoline into the shelter and burned the dead bodies in it.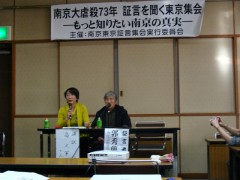 Something like that has been happening on and on in recent Iraq and Afghanistan but has been never publicised until Wikileaks released.
"Leaking war crimes is not crime" is right!