11 February 2011
I went to Okinawa last month to help the localies protest against construction of new U.S. military bases on their island. I visited two sites. One is Henoko, where US marine's runways is planned to be constructed by reclaiming the coral reef ocean where endangered mammals, dugongs inhabit.
The other one is Takae, where the U.S. marine's helicopter pads are under construction in the mountain. The helicopters or ospreys will be deployed. They are very much concerned about big noises and accident caused by those.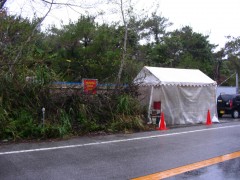 In both sites, localies set up tents to monitor what construction workers do and do protest activities in order to stop or delay the construction. They say they do not care what the government decides because they can decide what to do within their communities. I saw a local man stopping cars passing by including those belonging to the US marine. They had guts to protect their community. Some of them are even accused of blocking the road by the authority. But they still keep on doing what they do.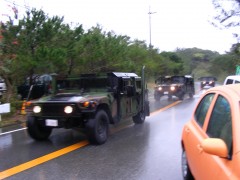 Ironically, this reminds me of what I learnt during my college days in the U.S. I think this is American way of doing democracy. If a citizen thinks his or her own government is doing wrong, right the wrong even by breaking the law. Like Rosa Parks' refusing to give front seat in the bus to white passenger which led to boycott on the commute buses by Afro-Americans and end up growing civil rights act movement.
The Japanese government and the U.S. marine is doing the wrong thing because they do the projects without approval from the localies.
It is also called "Libertarianism" which respects individuals' freedom not being intervened by the authority. That is why they protest gun control and public medical insurance offering. They want to minimize the government's restriction on individuals' lives. Their first priority is individualism and their most important community is their local town, not central governemnt. That is how the United States of America is constructed.
That means Okinawans' localies have the right to protest and overthrow the plans which the two big governments decide. Furthermore, Libertarians think such government should be overthrown by militias.