21 June 2018
I sent a letter to US Ambassador to Japan, Mr. Bill Hagerty today. It should be handed to him next Monday hopelly.
The below is what I wrote to him.
Dear Mr. Ambassador Hagerty,
June 24, 2018
My name is MASAGATA, a Japanese man living in Tokyo. I used to study at San Francisco State University, where I majored in International Relations. I am now working as a translator using the English knowledge I acquired in the US.
I am writing this letter to tell you about a matter that is very important to both of our nations. I am sure that you are well aware of many issues between the two nations. I would like to mention the most important of these: a matter that might result in long-term deterioration of the current healthy relationship between the two nations. I urge your government to rethink its ways of dealing with this issue. Four years ago, I wrote to former Ambassador Caroline Kennedy regarding the same issue. This is modified version of the letter with update information.
The matter in question is the relocation of the US Marine Base from Futenma in Ginowan City, Okinawa Prefecture, Japan's southernmost tropical islands, which are a little like Hawaii. In 1996 both the American and Japanese governments agreed to relocate Futenma base to Camp Schwab to get away from the densely populated area around Futenma. Camp Schwab is on the coastline of the island, in an area called Henoko.

I am sure you have already been there and talked with Okinawa governor, Mr. Onaga about this issue. As you may know, there has been a local resistance movement since the relocation plan was announced. Locals near Camp Schwab are concerned about the deterioration of their living environment. Many environmental activists also oppose the plan because of the abundance of forms of wildlife that are unique to the area around Camp Schwab. The relocation plan includes reclamation of the sea to build two runways expanding existing facility. Schwab is located in between Henoko coast (left) and Oura Bay (right).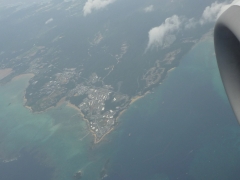 This photo is of a dugong, an endangered marine mammal that eats grasses in the sea. It is just ridiculous that the nation that protests Japan's whaling in the Antarctic Sea – and even dolphin hunting in Taiji, Wakayama Prefecture that former Ambassador Kennedy was eager to protest – is helping to threaten another marine mammals that live in Japan.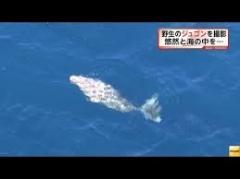 In Oura Bay, the world's largest, oldest and northernmost blue coral lives and has continued to grow for 3000 years.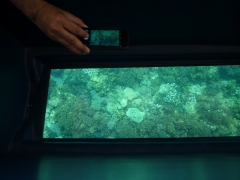 Many new species are discovered in the bay recently. A lot more may be still undiscovered.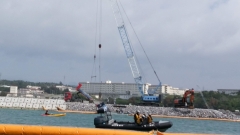 On Henoko coast, the sea is enclosed and scheduled to be reclaimed in August and dugongs and other creatures' lives would be threatened. Dugongs' sea grass is found in the reclaiming area. They will lose their feeding place. As for blue coral, reclaimed space would change the sea current and might adversely affect life of the coral. Then what will happen is that your nation will be accused of helping to diminish such wonderful and rare creatures for the interests of the few.
The few, you might know, are certain businesses and government people who want some gains from the project. One of major contractors of the project is Taisei Kensetsu Corporation, where son of current Cabinet Secretary, Mr Suga, works. Actually, the Japanese Ministry of Defense carried out an environmental assessment in which it was claimed that there were no dugongs in the sea. But the environmental organizations such as WWF and The Nature Conservation Society of Japan claim that the MoD's assessment was wrong and the organizations' own research found clear traces confirming the existence of dugongs. Recently, Okinawa's local newspaper revealed the news that the MoD was aware of the finding but had covered it up.
On November 22nd, 2013, in Nago City (to which Camp Schwab is attached), the city council made a resolution demanding the Okinawa Governor not to permit landfilling of the sea. However, the governor permitted the landfill in December even though a majority of Okinawans disapproved his decision.
The following month, in January, Okinawa Prefectural Council made a resolution demanding the Governor's resignation. Okinawan protest activists announced legal action against the prefectural government in order to cancel the permit. Later, on January 19th, the mayor of Nago City, INAMINE Susumu was re-elected because of public support for his policy of the city's refusing corporation with central and US governments regarding construction of the new base project.
However, last February INAMINE lost to a candidate Mr. Toguchi who was backed up by the Japanese government's ruling parties. But Mr. Toguchi never mentioned whether he agree the relocation plan or not during the election campaign, rather he claimed that he request the US Marines move out of Okinawa. So he could not be seen as pro-relocation and construction of new base in Henoko from voters' perspective although he is betraying the voters' expectation now.
You might say this issue is something to be handled by the Japanese government, and that it is not the responsibility of the US military. But that sounds very hypocritical. The US military is the one that uses the facility and up until now involved in designing of new runways and annexed facilities. The US government can cancel that project and find another relocation site outside Okinawa. If the US continues to attribute this to the Japanese government, it is just like what Japanese conservative politicians say when it comes to the "Comfort Women" issue: "The Japanese Imperial Army was not responsible for kidnapping women in Asia for sexual slavery for soldiers during the war period in the early 20th century, it was what outsourced local brothels did." The US Congress disavowed such argument and made a resolution to demand that the Japanese government apologize for former comfort women in 2007.
Until now, tens of protestant were arrested and injured by police at the gate or coast of Camp Schwab. Such news reports have been broadcast all over Japan. The construction will take many years to complete, while resentment is continuing to build. Your military and diplomats are dealing with such problems for a very long time. Young marines trained there as well. During mayoral election, I met group of young marines in Nago city. I talked to them but they said they were not allowed to talk with strangers.
Besides these factors, there are technical issues revealing infeasibility of the construction project as follows.
Active faults are found to exit down below planned construction site of runways. If that is the case in California, the project wouldn't be permitted.

Around planned construction site of runways are buildings higher than US military aviation standard, flying there might cause collision with these buildings, similar situation to Futenma Air Base in Ginowan city. The buildings include school and its dormitory at which young students attend classes or reside. The school officials were not informed of this matter until recently. No plan of relocation is announced although a power transmission tower next to the building was already planned to relocate from that site.

Geological survey conducted in the sea indicates seabed is too fragile to reclaim like mayonnaise, which consumes more budget and time so the construction period should be much longer than expected like 15 years from now.
It is possible that the project is cancelled halfway for some reason but irreversible damages would be left together with grudge from locals.
In fact, the US military presence in Okinawa and even nationwide is becoming nothing but troublesome. More of us know that the US military presence no longer functions as defense or deterrence like in the Cold War era. China is said to be a new threat but we know that US-China relations have become more vital for your nation since China owns more US treasury bonds and buys more US goods than Japan does. China has become a larger economy than Japan these days. Trade amount between US and China is three times more than that between US and Japan. President Trump's family has businesses in China. Unlike former Presidents, Mr. Trump never mentioned human rights issues in China.
Mr. Trump imposed sanctioned on China for trade issue recently but Japan is a prime target as well since Japan has run surplus on trade with US like Canada and Europe. Mr. Trump's sanction tells how important and influential China has been for US economy.
We can easily predict that the US would not help Japan even if China and Japan became involved in a dispute for some reason such as the territorial right to the Senkaku islands. The US cannot send troops to assist Japan fighting against the Chinese military because such action might cause great losses for your national interests. China has many ways to sanction your nation as already did recently. China also played a big role in negotiating with North Korea. China is vital for US politics as well as economy.
Military experts say that the biggest reason that the US military forces stay in Japan is to cut cost of their own because Japan provides host nation support fund, which we call "Sympathy Budget" that accounts for more than 70% of total expense for the US bases in Japan. There are more than 130 facilities of US military in Japan. Most of the troops are stationed at 30 facilities in Okinawa prefecture that accounts for 1 % of total of Japan's territory and population. Okinawa has been occupied until 1972, which is 20 years after mainland Japan regained sovereignty and was the only place that experienced ground battles within Japan, causing 200,000 civilian casualties during WW II. During Vietnam War, it was a transit point to transport soldiers, military weapons and equipment. Now there is no strategic importance. How many of US congressmen and senators knows Okinawa? Is this place worth keeping bases in?
Deploying your military so much in our country, especially Okinawa is just causing growing distrust against your country. I believe the Okinawa issue presents the perfect timing for your nation to rethink its military deployment in Japan in order to improve the relationship between the two nations. Constructing a base on reclaimed land in the Henoko sea is the worst possible idea.
US military presence functions to apply American influence on our nation. Yes, it did work that way but you really have to know this may be working negatively. The image of your country itself is no longer positive like in the past. In other words, the US is no longer a powerful land of dreams, nor is it any longer a role model for us. One example of this can be seen in a recent best-selling book on your country's poverty issue. The title of the book is "Rupo Hinkontaikoku America" (Report, Poverty Superpower, America). It was written by a Japanese journalist, TSUTSUMI Mika. The book describes how Americans are struggling with poverty in a plutonomy society and explains how Japan should not follow suit.
We know that a lot of young Marine troops stationed there come from poor families that cannot afford college education and have problems like domestic violence. They join the Marines by system, so called, Poverty Draft. That is why they cause troubles with Okinawa locals.
The interesting thing to note is that Japan was democratized and the wealth of the nation was redistributed from pre-war plutonomy by the US occupying forces. Thanks to them, Japan has become the most egalitarian society among industrialized nations. We do appreciate that. We are always good friends to you as long as you are what you should be. However, recently I, myself turned a former friend due to what is happening in Okinawa.
When Okinawa was first occupied by US Army which defeated Japanese Imperial Army, Okinawans saw Americans arrived there as liberators but later that was found to be false. But this time is a greatest chance to be the one since the Japanese government is too rigid to hear voice of Okinawa. Please do not miss this chance.
As for practical solutions, I recommend your organization to review a proposal by a private think tank, The New Diplomacy Initiatives (http://www.nd-initiative.org/en/), which suggests removal of US Marine bases from Okinawa but instead, establishing joint Humanitarian Assistance/Disaster Relief (HA/DR) Corp. with Japan's Self-Defense Force equipped with high speed transport vessels, which rotates around East Asia. It is cost-effective and able to contribute to security of the region.
Sincerely,
16 August 2017
The world is shocked by white supremacists' march and subsequent terror attack to its counterprotestors in Charlottesville, Virginia, and President Trump's response to the incident.
To me, it was the same day I participated in a peace march protected by the police force and met with nationalist counterprotestors on the sidewalk. Prior to the march, the police blockaded the roads so no nationalist would not enter the march route. The peace activists protest the Yasukuni Shrine ideology (justifying Japan's invasion of Asian neighbors) and its enshrinement of the war dead in WW II. Just like General Lee Statue of the Confederate Army.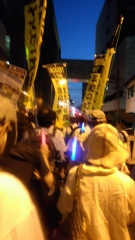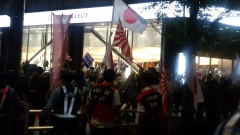 What happened in Charlottesville is reverse. The marchers were nationalists.
Donald Trump has been criticized for his not naming white supremacists or Neo-Nazis as offenders, instead he blamed "many sides" or "both sides" for the incident.
He claimed that if they wanted to remove General Lee statue because of slavery related history, George Washington and Thomas Jefferson should be removed as well because they were slave owners.
Yes, he made points. America is founded on slavery, and massacre of Native Americans.
Liberals and mainstream media have harshly criticized Trump's statements, which seemed to condone white supremacists' action. More and more people join counterprotest to the rise of white nationalist movement. But it is the fact that some portion, not very small portion of the population supports white nationalist views. That is why he was elected.
America is in fact, European immigrants nation. Majority should be white. In coming decades, white will not be majority but fall into minority, less than half. Currently still more than 60%. Silent white majority now feels threatened because true American identity may be lost. Trump exposed true nature of America.
America, as melting pot, salad ball, mosaic is in fact, illusion. The reality is white dominated Christian base society. If other people want to join, they have to compromise to be second-class citizen. That is the same everywhere in the world. It is very, very difficult to change the society. Tradition and core demography cannot be changed easily whether it is good or evil. Obama, as Black president was exceptional. That is why such whitelash is happening.
To me as Japanese, if America is not white majority nation, it is not America I know. Most of Hollywood film actors are white. So it is the time we, Japanese and other people in the world to change the view of America.
America is no longer or has not traditionally, free and democratic and friendly nation that respects diversity and dignity of other people than whites. They were really good at advertising good images but the truth is not how they portrayed themselves to the world.
Good example is Guam in US Pacific territory and Okinawa, Japan.
Guam people have no rights to elect US President. Guam is small islands but one-third of the areas is occupied by US military bases. Locals have no rights to change the situation just like a colony.
In Okinawa, there has been anti-US military base movement led by Okinawa prefectural governor, Onaga. Majority of prefectural residents want US military, especially Marines out of their land. But the U.S. persists in stationing there in the name of defense of Japan, which in fact, they do not so.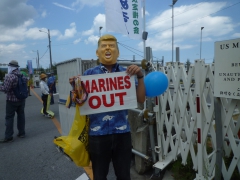 Good thing about Trump is he insists on removal of US forces from Japan because US no longer wants to defend foreign nations but prioritise domestic issues. Other US Presidents look politer but still want to keep hegemony of the world. Trump is destroying his nation's reputation so that US cannot lead the world any longer. More and more people stop treating America as the world leader or a role model of the democracy.
Trump looks crazy but may try to normalise his nation and the world.
30 December 2016
An osprey (helo-plane type flying vehicle) crashed on the coast of Nago city, Okinawa Prefecture, Japan, Dec 13. A major accident finally occurred 4 years after deployment in Okinawa. That was in fact, anticipated 4 years ago. Read this post.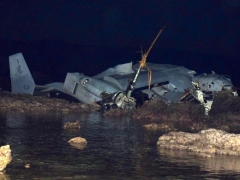 The crash site was near the US Marine Camp Schwab. The osprey seemed trying to land there after its propeller was damaged while inflight refueling training and had lost control of it. The accident was classified as Class A, highest rank, loss amount was more than 80 million US $. The osprey was torn apart to more than 4 pieces.
Top ranking official of US military stationed in Okinawa, named Nicolson, said Okinawans should appreciate pilots had avoided landing on nearby ground so no civilian casualty was caused. That comment outraged Okinawans who have been opposed to osprey deployment for a long time because of defective structure of the vehicle. Osprey cause accidents 3 times more frequent than other helicoptors. That rate has not changed since it was first introduced in US Marine more than 10 years ago.
The news was reported and broadcasted nationwide. Not only Okinawa locals but Japanese citizens in general felt very distrustful of the U.S. army and the U.S government.
This crash accident is related to ongoing construction of new runways in U.S. Marine Camp Schwab site. A hundred ospreys will be deployed there after completion of the runways by landfilling the sea.
Okinawa governor, Onaga once cancelled landfill permit which was signed by a former governor but this month a week after the accident, Japan's Supreme Court made a ruling that Onaga's cancellation was illegal. Then he revived landfill permit but insists on his firm determination of stopping the construction by whatever method he could use. He still holds many authorities to do that.
Japan's central government and U.S. government do not mind local protest and proceed construction.
What will happen next year? The construction will never be done but distrutst and grudge will grow.
More news related to this construction and osprey will come up. US government might think it is a small matter in the far east. Actually this news is not widely reported in US.
As I described in this blog, more Japanese are learning US military stationed in Japan no longer functions as defense. It is just for two nations' political or military establishment who want to maintain US-Japan defense treaty system.
At Japan's considerate citizen and Okinawa local level, US is just losing trust and friends by this issue.
US seemed very near-sighted. Maybe Japan is not very important any longer since China has become bigger economic power. But China cannot share the same democratic values with US like Japan does in East Asian region. Japan is necessary as bypass between US and China in many occasions.
But it is time that Japan diverts from friendship with America.
Okinawa might turn to be another Pearl Harbor between two nations.
Things might change if newly elected President Donald Trump alters the course. He may do so since he insisted on withdrawing US troops from Japan during the election campaign. He may find Okinawa bases are nothing but budget wasting place.
I am not very sure but he seems to know Japan very well since he has been to Japan many times as a businessman. One time he claimed Japan can defend itself like it did in the past like occupying China and ruled Korean peninsular. He looked not so intelligent but very clever and somehow very knowledgeable.
As for this Okinawa matter, Trump might be able to handle more wisely than Obama and Clinton (as Secretary of State) has done up to this point.
04 September 2016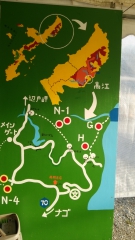 I stayed in Takae district, Higashi village in Okinawa Prefecture last week. I have been there more than 10 times in last 7 years. Okinawa is southernmost prefecture, 3 hour flight from Tokyo, which is tropical and whose population is 1.4 million. It is like Hawaii or Guam in the U.S.
Articles in Okinawa tag describes what is happening there. As described, Okinawans are in desperate situation. They confront with new US military construction plans. One is in Henoko, Nago city, where US Marine Camp Schwab is located. V shape runways construction is planned landfilling the sea by the beach of Camp Schwab.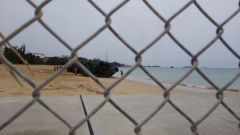 The other is Takae, Higashi village, where Northern Training Area is located.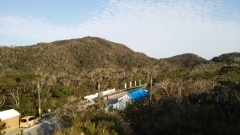 In Takae, construction of 6 helipads is planned in the forest near the villagers residential area.
In both cases, newly constructed bases will threaten the environment of locals as well as wildlife including endangered species. There have been protest movement such as direct action like sit-in at gates of the construction sites.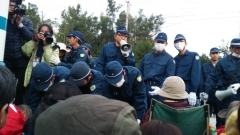 The Japanese government is pushing forward the project using massive police forces to clear out.
In Takae, last month one gate was cleared out by removing sit-in tents at the gate. Security guards and policemen are stationed at the gate. The photos are Before on the top and After in the below.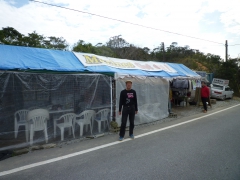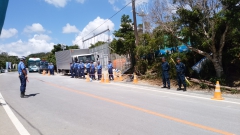 But Okinawans never give in. That is their history. Since the end of second world war, Okinawa has been occupied by US military forces until return to Japan in 1972. The big bases remained even after the return to Japan.
They always had troubles with US forces. To counter the oppression, what they do is sit-in protest direct action. They keep on doing until they win. They have suceeded in the past.
This time they try. In the opposite side to the gate cleared out by the police, they set up another big tent that can house hundreds of people. There are tens of benches inside. The place was another important entrance for construction. The tent blocks contruction workers to transport machines and materials to another places. The authority demands them to clear out. They refused.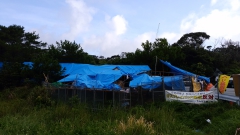 Inside a meeting was held every morning. The leader of protest movement said, their policy is non-violent but disobedient to the authority like Rosa Parks, Dr. King and Gandhi. They might break some laws but that doesn't matter if we can stop the worst thing. We do not have to follow bad laws.
I stayed in the tent and was told that just sitting on the bench is good enough to counter the police. If hundreds of people are inside, the police cannot move out so many people from such narrow place.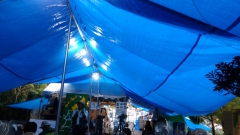 They also do sit-in protest on the road that construction trucks pass. Their sit-in delayed construction.
That is Okinawan way. That has been going on for decades.
Due to such circumstances, Okinawa has been most autonomous prefecture in Japan. Okinawa went through unique path. There was an independent kingdom until late 19th century. The island was annexed to Empire of Japan then.
The Okinawan government is now fighting against central government regarding landfill permit of Henoko sea. The Okinawan government invalidated landfill permit so the central government sued the Okinawa to make it validated. The verdict will be issued on 16 of September. The Okinawan government says it will fight until the end and halt landfill of Henoko and construction of new base anyway they can.
Recently independence movement has been discussed among Okinawans. They found belonging to Japan is no longer advantageous to their land. They have different kind of culture and geographically separated from mainland Japan. They always wanted to claim independence. Now their patience has reached beyond limit.
That is like LIBERTARIAN way of thinking.
Interestingly, ROSA PARKS and LIBERTARIAN are sprits of their oppressors' nation. Maybe because of that, some US veterans sympathised with Okinawans. Last week some members of Veterans for Peace joined the protest. Last month Veterans for Peace in Berkeley made a resolution that new US marine base construction should be halted.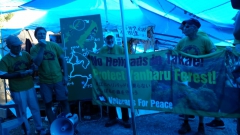 They showed up in the tent. I talked with them. They were surprised to know that during Vietnam war era, Agent Orange was used in the village and villagers were used as simulated VetCont targets in the training. One young member who was stationed in Iraq said he had been deceived by the government. They really learnt significance of this protest movement like their own.
ROSA PARKS and LIBERTARIAN may be globally common concepts for living life.