12 July 2011
Participated in a Naked festival
Last Sunday, I went to the Enoshima Island to participate in the Tenou Festival of the island's shrine.
It is located 1 hour and half train ride from Tokyo.
It is to commemorate the event occurred in 19th century, which local fishermen transported cast-away treasure of the shrine across the sea.
So in the festival, the decorated box of the below photo, so called "Mikoshi" was transported by tens of people to the sea from the shrine.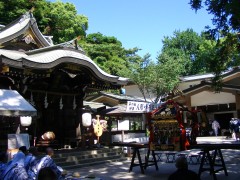 When the mikoshi arrived near the beach, only naked guys remained there and transport it to the sea.
I joined the naked transporter group. Of course we were not totally naked. We wore white loincloth so called "Fundoshi." Very traditional men's swim wear. The difference from modern one is it doesn't cover hips and asses. It has no rubber band in it. You tighten it by folding and roping.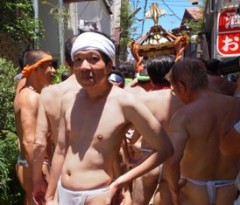 Bathing into water wearing fundoshi made me feel so nice. I could feel water almost all of my lower body. I can never wear boxer pants once I learned how it feels.
See this video to know what we did.
After swimming in the sea, the group got out of the sea and walked on the street carrying the mikoshi shouting, jumping to demostrate men's energy. Since we got wet and the fundoshi is soaked, private zone's shape became obvious.
Kind of embarrassing? No if you are really Japanese boy, so called "Nihon Danji." I never minded spectators looking at us or taking pictures. We were there to show what we were.
That is the spirit of Naked Festival. I really enjoyed it. I became "Nihon Danji."
However, in modern time not many Japanese men wear it so often because some are too embarrassed or it takes time and is difficult to wear casually. That is why fundoshi can only be seen as custume in festival today.
If you are interested in knowing how to wear it, please see the below video clip.