17 August 2015
Firework, I saw at a military base in Tachikawa.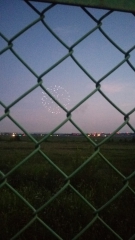 Dancing on the street, in kimono. Kagurazaka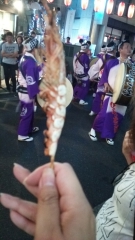 Floating lanterns on Sumida River, Asakusa. Each lantern represents soul passed away.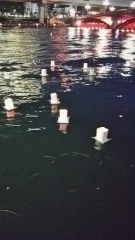 04 March 2014
Not homosexual, homosocial! I joined naked men in thong festival in Hobara town, Date-city, Fukushima Prefecture.
You may feel familiar with Fukushima. Yes, that is in the same prefecture in which that severe nuclear accident occurred after the earthquake and tsunami hit the nuclear plants 3 years ago. Hobara is 50 kilometers away from the Fukushima Daiichi Nuclear Power Plants.
On 2nd of March, I traveled to Fukushima from Tokyo. I brought my gaiger counter (radiation level measure). This was my 5th trip to Fukushima since that disaster. My purpose this time was my third time participation in the festival as naked man in thong walking and running on the street. Other 2 times I joined radiation clean-up mission of the town.
What my gaiger counter indiated at the Tokyo Railway and Fukushima Station were very similar.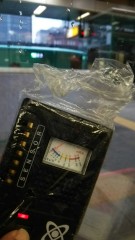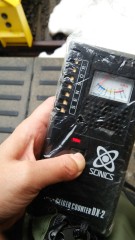 3 years ago, it was different. The below is what I took in Hobara Station July 2011, 4 months after the accident.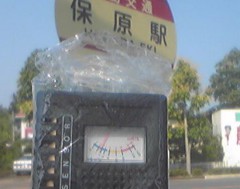 As you see, the counter needle went more right. It was over 0.1 Rem. More than 10 times of normal level.
However, it went down but still radiation level is higher than normal.
On that day I went to the gathering place near the Itsukushima Shrine in Hobara town to put on thong.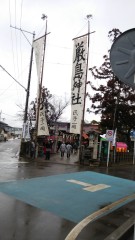 Over there around 70 men gathered to prepare for the participation. All guys became naked and bathed in hot water tub and after that they got themselves in thongs by local festival staff. Naked guys waiting in a room holding thongs in their hands. Talking about their bodies. Someone joked about that. (See the photos on this Japanese site which were taken 3 years ago) The thong contains cup to hold guys' private thing. After it was tightened by the staff, it was like being chained on your ass to hips. Kind of extra-ordinary feeling.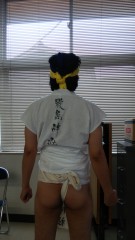 It is called, Fundoshi or Mawashi in Japanese. Sumo wrestler wear that. In the old days, it was maily used as underwear or swimwear for all the men in Japan.
The festival is named, Tsutsuko-hiki Festival. It literally means pulling the Tsutsuko, divine rice in a big straw bag which weighs 800 kg. To wish for rich harvest and health of the localies. By pulling the bag from all the direction the rice turns out to be soft and sweet rice cake. If you eat that, you can stay healthy all year around.
I learned about this festival when I joined the radiation clean-up mission. Then I decided to join the festival every year to wish for betterment of the town's environment. Only God can change things better, I guess.
After dress-up of the thong guys had to wait for the main event for 1 to 2 hours. Until then other things such as performances or children sports event went on outside.
During that waiting period, guys chatted each other drinking sake (Japanese alchohol beverage) and eating foods in a small room. It is the very men's world. Talking about life, sex and etc. I hesitated to talk about nuclear things because it was too serious for the localies.
Guys were mostly from Fukushima. One young man was from Australia. He said that he now lives in Iwaki-city in Fukushima as translator. He said that he enjoyed wearing Fundoshi. That amazed me. Only one caucasion young man among 70 Japanese men. It was like the short novel I wrote on this blog. A foreign guy experiences very traditional thing which modern Japense do not any longer.
After an hour long talk, I found myself very drank. The main event started and I ran with other guys to the shrine. Guys transported Tsutsuko on the carrier shouting "Wasshoi." After transporting it on main streets of the town, we placed that on the road. Then we, guys pull and bang that on the road shouting.
Later we transported that back to the shrine and the Tsutsuko bag was cut to open. Rice cake in it was divided and handed to participants and gallery. I enjoyed this festival last year and two years ago. However, this time I got too drank to remember what exactly I did.
I just hope things are getting better in Fukushima, Japan and the whole world.
12 July 2011
Last Sunday, I went to the Enoshima Island to participate in the Tenou Festival of the island's shrine.
It is located 1 hour and half train ride from Tokyo.
It is to commemorate the event occurred in 19th century, which local fishermen transported cast-away treasure of the shrine across the sea.
So in the festival, the decorated box of the below photo, so called "Mikoshi" was transported by tens of people to the sea from the shrine.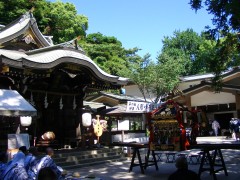 When the mikoshi arrived near the beach, only naked guys remained there and transport it to the sea.
I joined the naked transporter group. Of course we were not totally naked. We wore white loincloth so called "Fundoshi." Very traditional men's swim wear. The difference from modern one is it doesn't cover hips and asses. It has no rubber band in it. You tighten it by folding and roping.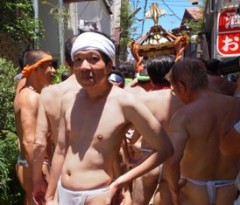 Bathing into water wearing fundoshi made me feel so nice. I could feel water almost all of my lower body. I can never wear boxer pants once I learned how it feels.
See this video to know what we did.
After swimming in the sea, the group got out of the sea and walked on the street carrying the mikoshi shouting, jumping to demostrate men's energy. Since we got wet and the fundoshi is soaked, private zone's shape became obvious.
Kind of embarrassing? No if you are really Japanese boy, so called "Nihon Danji." I never minded spectators looking at us or taking pictures. We were there to show what we were.
That is the spirit of Naked Festival. I really enjoyed it. I became "Nihon Danji."
However, in modern time not many Japanese men wear it so often because some are too embarrassed or it takes time and is difficult to wear casually. That is why fundoshi can only be seen as custume in festival today.
If you are interested in knowing how to wear it, please see the below video clip.