03 July 2013
Entertained by a male Geisha
Did you know there are male Geishas in Japan? Geisha usually means female escorts in kimono. But there is male version of it.
Men in kimono entertain guests in the tea houses or Japanese style restaurants.
They are called "Taikomochi" or "Hokan" in Japanese.
Last month I went to the lunch show of a male Geisha in Kagurazaka district in Tokyo. The Geisha name is Yugenteitamahachi.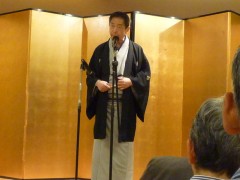 He is one of very few male Geishas remained in Japan. In the old days like in middle of 20th century there were more than 400 of them. As time passes by, not many people do not enjoy Geisha shows in Japanese style room. He said that as entertaiment is diversed, people can have more choice for entertainment, not just Geisha play.
Male Geisha do not play the same role as Geisha girls. They are not sexy, they are rather funny characters, like comedians. They coordinate between male guests and Geisha girls. So the guests can know who can be best girls for them. They know how to chat with guests, including man to man vulgar chatting. They are very considerate, avoiding politics and religions as topics.
But they can do performances as singing, playing shamisen guitar, mimicing celebrities, and dancing.


The show was not as impressive as Geisha girls' show I enjoyed a few months ago. But it was good that I could learn one form of Japan's tradition. Sorry to know that this is an endangered occupation.