26 June 2013
German Film "Das Schönauer Gefühl" ATOMKRAFT? NEIN DANKE!
Recently I have become a big fan of Germany, Deutschland.
The documentary film I saw represents one aspect of that.
Germany has recently decided to terminate operation of all of nuclear power plants in their country until 2022.
German people started heated movement of non-nuclear policy after Chernobyl accident in 1986.
The film described non-nuke and self-sufficient power generation movement of people living in one small town, named Schonauer. After going through fierce battles with big power company and debates and referendums among localies, they established their own power generation system and company.
Germany is indeed very sophisticated society. German people are so enthusiastic about civil activities.
Since Fukushima accident, Japanese citizens are learning what Germans did and are doing.
I am one of student of German experiences.
Ich bin Deutsch!! Danke schonn!!
The below photo is me in German logo T shirt, that says "Nuclear? No Thank You."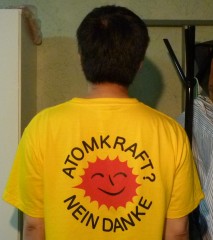 The below video is what I took at the anti-nuke event in September 2011. One German anti-nuke activist made a speech on the stage to tens of thousands of audience attending.