14 November 2014
Biographic story of Bayern king in 19th century Deutschland (Germany).
A young Ludwig succeeded Bayern crown after sudden death of his father.
Unlike his father, he never liked war and loved music and art. He believed art and music could maintain the peace but at the same time he had to struggle with the reality of the world.
Ludwig admired a opera music composer, Wagner. He became a patron for him. He liked Wagner's most famous opera "Lohengrin." He was a romantist.
But his kingdom faced wars and its sovereignty was weakened by defeats of the wars.
Then he tried to escape from such harsh reality and in his late years he ordered to build his own imaginative castle Neuschwanstein. Neuschwanstain was modeled after the castle on "Loengrin" stage. In Japan it is famous for model of Cinderella castle in Tokyo Disneyland.
I visited Neuschwanstein in April, 1995. Before visiting the castle, I went to Ludwig's home castle nearby. Luckily I was the only visitor so I could speak with the local guide about Ludwig's life. She told me the relationship between his dynasty and commoners was not bad so there was no bloodshed revolts like France. I asked if Ludwig was gay. The guide just laughed. Actually he was and that thing was portrayed in the film.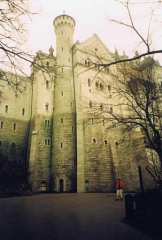 It was of course, a taboo in his society at that time. He struggled with that thing as well.
Lesson of this biography is no one can avoid reality. We all have to deal with it. If you try to escape from it, in the end you will be like Ludwig.
But art and music are really important in our real life and energize us.
Wagner's "Lohengrin" and Neuschwanstein in fact became German's most glorious heritages. Ludwig indeed contributes to his nation even after his death.