30 December 2014
Film: 007 "On Her Majesty's Secret Service" Best in the series
I learnt the queen is called "Her majesty" by this film. Just like Emperor is called "His majesty."
The story is just as unrealistic as other films in the series. James Bond went to Switzerland to search for a bad guy who tried to spread poisonous chemical all over the world. While the search, he met a beautiful woman and fell in love with her.
Great thing about this film was that James Bond really fell in love with the woman and lastly married her. That was actually what her father asked him to do in exchange for the information Bond needed. But he really loved her.
The words her father told 007 about his daughter was very memorable. She divorced and lost her child and was in despair. She demanded too much but never met that demand so she could never make herself happy. Right, no one should not demand too much. I recently learnt why I've been not so happy these days by the words.
Interesting fashion was James Bond wore skirt as formal wear at dinner. Actually that was Scottish male formal wear. James Bond was said to be Scottish. It may be common with Japanese. Traditional Japanese male formal wear is skirt as well, actually longer.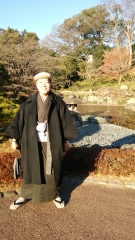 The Bond girl in the film seemed very advanced type of character in that era. She skied and drove very professionally and fought against a big man with her hands.
That made me think Bond girls in the series created original image of Charlie's Angels in 1970's. In fact introduction of the film is similar to Charlie's Angels TV shows, shadow image of women's figures.
Unfortunately, Bond girls in the series are killed. At least one in one film. That is the cliche of the series, making viewers sad. But maybe very realistic in that sense.
In this film this cliche was very passionately used. Very cruel way. It happened not in the beginning or in the middle like other films but in the end, which was very dramatic. That really made viewers sad.
That really impress viewers and let them learn how clever the film makers were.
Please see the film and you can share the same opinion with me.