07 October 2015
Last month during what is called "Silver week" holidays (September 19 to 23), I visited a feudal period castle, Himeji Castle. It is located in Himeji city, 3 hours and half by Bullet Train from Tokyo and almost 1 hour from Kyoto.
As the train was reaching the Himeji station, I could view the white castle from the window.
As soon as I got out of the station, I could view the castle far away.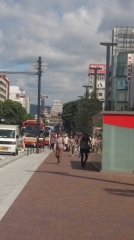 It was magnificient view. As I got closer to the castle, its appearance impressed me more.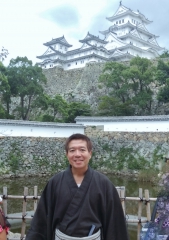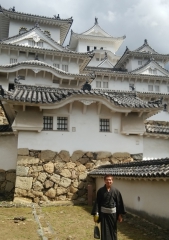 The castle has had that appearance since early 17th century. It is one of 12 still existing castles from the feudal period. In late 19th century, there were hundreds of feudal lords' castles in Japan but most of them were dismantled by new modern government order or destroyed by air raid during the second world war.
The castle went through several rennovation because it is old and wooden-made. But the basic structure and materials are the same as the old days with no elevator inside. Tourists have to climb up ladder-like stairs to the top 6th floor.
Actually such castle tower is not for residence of feudal lord rather, it was for symbol of power, observatory, and evacuation from the enemy invasion. So not functional for living. But the veiw from the top was spectacular.
It is designated as World Heritage site in 1990's. So it is famous internationally. But it was already famous before designated as World Heritage site. The castle was one of film location sites of 007 "You Only Live Twice."
The film was released in 1967. It showed how it was like in those days Japan. First James Bond actor Sean Connery wore kimono like a Japanese man and played like Ninja. Ninja were spies like 007 in feudal period. Himeji Castle was used as a ninja training facility.
The story is unrealistic like a comic. Maybe that is the feature of the film.
But viewers can enjoy sight-seeing of Japan. Seeing Sumo matches, kimono bond girls, fishery village, traditional wedding, Ninja, Himeji castle, volcano mountain and etc. All the things are very much Japanese. Not only those things but modern aspects of Japan were included such as subway, city neons, Toyota sporty car, 1964 Tokyo Olympic facility and pier buildings that James Bond fought against gangs.
Interestingly, foreigners could find more beauty of Japan than native Japanese.
This film is kind of basic form of 007 film since it was last work based on Ian Flemming novel. The story has some mutuality with film "Mission Impossible, Ghost Protocol". It included the global criminal organisation called "SPECTRE" that James Bond fought against.
SPECTRE is latest 007 film scheduled to be released this year. In that sense it is a great timing to see this old 007 film.
I am glad that James Bond, modern day ninja visited Japan and let viewers enjoy touring of this mysterious country.
Last scene of the film depicted Japan's mysterious aspect. Eruption of the volcano. Japan has many volcano. That is why we have many natural hot springs as well as earthquakes that sometimes caused big tsunami and destroy nuclear power plants.
30 December 2014
I learnt the queen is called "Her majesty" by this film. Just like Emperor is called "His majesty."
The story is just as unrealistic as other films in the series. James Bond went to Switzerland to search for a bad guy who tried to spread poisonous chemical all over the world. While the search, he met a beautiful woman and fell in love with her.
Great thing about this film was that James Bond really fell in love with the woman and lastly married her. That was actually what her father asked him to do in exchange for the information Bond needed. But he really loved her.
The words her father told 007 about his daughter was very memorable. She divorced and lost her child and was in despair. She demanded too much but never met that demand so she could never make herself happy. Right, no one should not demand too much. I recently learnt why I've been not so happy these days by the words.
Interesting fashion was James Bond wore skirt as formal wear at dinner. Actually that was Scottish male formal wear. James Bond was said to be Scottish. It may be common with Japanese. Traditional Japanese male formal wear is skirt as well, actually longer.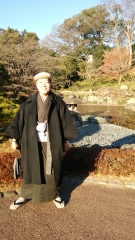 The Bond girl in the film seemed very advanced type of character in that era. She skied and drove very professionally and fought against a big man with her hands.
That made me think Bond girls in the series created original image of Charlie's Angels in 1970's. In fact introduction of the film is similar to Charlie's Angels TV shows, shadow image of women's figures.
Unfortunately, Bond girls in the series are killed. At least one in one film. That is the cliche of the series, making viewers sad. But maybe very realistic in that sense.
In this film this cliche was very passionately used. Very cruel way. It happened not in the beginning or in the middle like other films but in the end, which was very dramatic. That really made viewers sad.
That really impress viewers and let them learn how clever the film makers were.
Please see the film and you can share the same opinion with me.
30 October 2013
I recently rent DVD series of TV show "Covert Affairs." The story is about a female CIA agent who is multi-lingual and her associates.
The show reminded me of 1970's most popular TV show, Charlie's Angels. But the main character, Annie Walker is not as sexy as the angels. It is more of how spies do covert activities. It is like female 007.
Her mission is not just steal classified information or investigate what is happening but recruit someone on target side to be information providers. Like in some episodes, Annie approached embassy worker of Syria to get access key of the embassy. She also convinced secretary of prime minister of Yemen to be that. It is like making someone another spy for CIA.
I am not sure how realistic the stories are. But recently news that cell-phone of German Chancellor, Merkel was tapped came out. US spends huge budget on covert activities. They do actually things like that to get what they want. That is most important matter in diplomacy.
Speaking of spies, there were people called Ninja in feudal Japan. Like Annie Walker and James Bond, they had extra-ordinary physical strength and spying ability. They were trained to be Ninja from their childhood. They were hired by regional lords to spy and assassin opponents.
Covert capability is like secret military for nations. Such spy matters should go on as long as human being exists. That is why such shows are interesting.