13 July 2022
Novel: "Henoko Bar, Stars and Stripes" Chapter 2 "Soldier Boy"
In Henoko, Nago City, Okinawa Prefecture, shaken by the issue of the construction of a new U.S. military base, a female singer time slips to the time in the midst of the Vietnam War. What is the Henoko New Base Issue? What is the Vietnam War? What is America? What is Okinawa?
A short story in 9 chapters. Each chapter features famous songs from Japan, the United States and Okinawa.
Please read Chapter 1 first.
When Naomi got to the counter, a middle-aged man who seemed to be an Okinawan who seemed to be a master was making a cocktail. Naomi talked to him.
"Excuse me, do you have anything?" Beer or whiskey?"
The middle-aged man looked at Naomi with surprised eyes.
"What did you come here for?"
He replied. When she was surprised with his reaction, a young American man from the side said,
"Oh, Great looking girl," he said to Naomi.
Naomi was good at English conversation. Her English grades in high school were excellent. It has to do with singing, too. She studied hard to learn English songs. The experience of spending time in Europe to learn singing was also a factor in improving her English skills.
Naomi smiled back involuntarily. A tall, blonde young man was standing beside her. Instantly, the man hugged her. He put his hands on her ass.
She said, "Stop, don't touch me." What a guy! She tried to pull her body away, but the man's arms were far stronger. Then, another hand entered from her side, pulling Naomi and the man apart.
"Don't be rude to this lady" said another tall, brown-haired man.
The blonde man frowned and left. Naomi looked up at the brown-haired man who had saved her. He was young and very handsome. His face was like a Hollywood actor. She fell in love with him unexpectedly.
"Thank you," she said.
The young man said,
"Are you alright?" Everyone gets drunk and engaged. It's dangerous for a beautiful woman like you to hang around a place like this" said the man. "This is the bar for American soldiers."
"Really?" Naomi was surprised.
"It's unusual for a woman like you to come. Do you work here? Or a tout?"
Was she seen as a prostitute? Naomi felt weird.
"No. I came for a drink" said Naomi.
"Well, I'd like to know you. I'm Jimmy. What's yours?"
She introduced herself with a big smile.
"Naomi."
"It's a good name," Jimmy said.
Yes, Naomi is used as a female name not only in Japan but also in the United States. Naomi involuntarily thought about switching from Genjiro to Jimmy.
Then she heard someone banging on the jukebox. He was another young American boy in this bar.
"Hey, Master, is this broken? I put a coin in it because I wanted to listen to "Soldier Boy", but it doesn't move."
The master went to the jukebox and hit it as well. The music never played. Naomi looked towards the stage. There was a set of bands there. There were drums, piano, and guitar, and a microphone at the front of the stage.
Naomi knew the song "Soldier Boy". It is a pop song that became a hit in the 1960s by the Shirelles, a vocal group of four Black women in the United States. She also remembered the lyrics. It was easy to sing even with a Japanese girl because of simple English texts.
The songs of the early days of rock and pop in the 50s and 60s were easy to sing even by singers whose native language is not English because the lyrics were not complicated and the tone is smooth.
Naomi looked at Jimmy and smiled, wanting to show him and his friends her speciality, so she headed for the stage.
She picked up the guitar and headed to the microphone. She switched on the microphone.
"Soldier Boy, Oh my little Soldier Boy," shouted out the opening phrase of the lyrics.
The gazes of the American soldiers suddenly focused on her. Naomi then continued to sing "Soldier Boy" while playing guitar. The lyrics were something like "You are my first and last lover, my heart would chase whatever battlefield you go to," a song about love for soldiers on the battlefield.
Quickly Jimmy came up to the drums and played with the tune of her song and guitar. It was a bit rough, but it fit the tune. Naomi's beautiful voice echoes throughout the bar. The American soldiers were attracted to her all at once.
Some said, "This is our song." The place was filled with excitement. Naomi was also intoxicated by the atmosphere of the place.
She then sang a song that became a hit in Japan and the United States at the same time, "Ue Wo Muite Aruko (Let's Walk Upwards)" by Kyu Sakamoto, and the English title released oversea was "Sukiyaki". The lyrics were all sung in Japanese, but it was a big hit in the United States.
This was also a very good response. Why were today's young people moved by listening to such old songs? The best songs were those that last for generations, so it was only natural.
"Bravo," Jimmy exclaimed, and the others applauded.
It's like receiving a huge standing ovation on an overseas tour. Oh, glad she was a singer.
When she finished singing, there was a loud applause. Soon after, another oldies song came from the jukebox. Shirelles' "Mama Said" was played. Apparently, only "Soldier Boy" had a breakdown.
Naomi put down the guitar and got off the stage and headed for the counter with Jimmy.
"Great, beautiful," came the jubilant voices from those around them.
"Thank you, thank you," she replied.
Jimmy smiled and said to Naomi.
"I'll get you a drink, Master."
"Oh never mind, I'm here to drink for myself. Thank you for the drums," Naomi said.
"I'm an amateur drummer, but you're a professional singer."
"Oh not yet" Naomi said.
The master, a middle-aged man, said to Naomi.
"On the House, it's a treat from the bar," handing Naomi a glass of whiskey.
The master had a look of overjoy.
"You're a singer, aren't you? Why don't you work for this bar? I made a stage, but I couldn't find a good singer. How about ten dollars a night?"
"Ten dollars?" Naomi took a sip of her whiskey. It was true that this is a place with a lot of American soldiers, so using US dollar sounded reasonable but it was not usual to pay a Japanese woman like her in dollars? In fact, "Ten dollars" was also very cheap.
"Why dollars?" asked Naomi to the master.
"Oh, are you from Naichi? I figured out from the way you speak. This is Okinawa. Money is spent in dollars" said Master.
"You use the yen daily, US dollars are for Americans?" said Naomi.
"Okinawa is still separated from the Japan. Didn't you come here without knowing that?"
Well, Naomi became more confused. Jimmy interrupted.
"Naomi, do you live here in Okinawa?"
"I'm from Tokyo, on vacation."
"On vacation, from such a distance."
Then the master interrupted.
"From Tokyo? did you come with the Reversion to Homeland Council?"
Reversion to Homeland Council? It was an unfamiliar term to her.
"What are you talking about?"
Naomi had just downed her whiskey. She felt the drunkenness come around.
"I'll be the next one to treat you," Jimmy said.
The master offered Naomi a cocktail.
"Don't worry, Jimmy. I'll pay for it myself. How many dollars?" Naomi said. As she was about to take her purse out of her pocket though she never had any dollar bill, the master said,
"Don't worry, Everybody pays more and more like that. Drink as much as you want."
Master fingerpointed to a huge drum can in front of the counter. U.S. soldiers were throwing dollar bills to it.
"It's a hassle to pay for every single order, so they throw it in and drink as much as they want. Before they go to the battlefield and die."
Naomi understood. But it was amazing that the bar was making a big sales. Soldiers from Camp Schwab? It was true that fighting is still going on in Afghanistan.
"Jimmy, are you going to the battlefield, too?"
Naomi asked, and he said,
"Yes, we're training here for the battlefield in Vietnam."
"Vietnam?"
That Vietnam, that Vietnam in Southeast Asia? She wondered if they were at war right now. She certainly learned about the Vietnam War in history class in schooldays.
Naomi couldn't get what the Council for the Reversion to Homeland, Vietnam mean, these people were making fun of her?
"Look at today's newspaper, it's about the people in the council," Master said as he held out the newspaper to Naomi.
It was a local newspaper called "Okinawa Times". The headline was "Met with Prime Minister Sato in Tokyo: The Council for the Reversion to Homeland Returned to Okinawa" Naomi quickly opened the newspaper and looked at the other pages.
"South Vietnam: Intensifying Fights with the Liberation Army: Deploying More U.S. Ground Troops"
Naomi looked curiously at the newspaper's publication date. "August X of 1968" That was fifty years ago.
"Why do you keep such an old newspaper?"
She asked the master,
"What are you saying, this is today's newspaper."
He replied with a serious look. He didn't seem to be joking.
But she couldn't believe it. However, this place looked different from the twenty-first century she knew. The soldiers gathered in the bar and drank, but the clothes they were wearing are a little outdated even though they were young. They wore shirts and jeans pants, but the design looked like the old era. Maybe it was not a big thing, she thought. She never knew about the most recent American fashion.
Naomi thought it was because she drank too much and got drunk. Is that why she was hallucinating?
She thought she should get out of this bar and touch the outside fresh air. She felt good about singing, but drank too much. As she left the counter and headed for the door. Master and Jimmy called her behind back, "Are you okay?"
Naomi found herself indeed drunk. Her steps were a little wobbly. Then she walked out the door. She stopped on the side of the road, a short distance from the bar.
Compared to the inside, She could breathe a clear air. It was August, so it was humid, but she could feel the sea breeze at night. She stood there for a few minutes. It was really quiet outside compared to the bar inside.
She was relieved to feel that the drunkenness had cooled down slightly. Naomi decided to return to the bar. She thought about drinking soda water. She placed her hand on the door knob and tried to open the door.
She couldn't open it. It was locked. Was this bar closed while she was outside? She knocked on the door. She put her ear to the door but couldn't hear anything.
The bar closed while Naomi was out for a few minutes. But it was weird. Inside were dozens of young noisy American soldiers. They must have gone out too. If that was the case, she would have noticed that, too.
Maybe she got drunk and fell asleep standing? So she didn't notice people leaving? What she thought a few minutes long may have been hours.
Or maybe she had been standing there dreaming since she had come near this bar? Something strange happened no matter how she thought about it. She wondered if there were so many American soldiers coming to this bar. Uttered unfamiliar words like "Reversion to Homeland" and "battlefields in Vietnam".
In any case, Naomi felt that she was not in a decent mental state. She thought should hurry back to the inn and rest, she wondered if she had a terrible hallucination from the shock of being turned away by Genjiro and from drinking too much. She also wondered if the handsome Jimmy was also a phantom.
Naomi returned to the inn leaving the Stars and Stripes wall.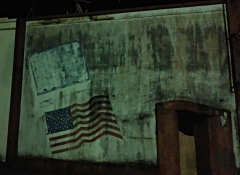 To be continued to Chapter 3