20 August 2022
Novel: "Henoko Bar, Stars and Stripes" Chapter 7 "Sit Down Here"
In Henoko, Nago City, Okinawa Prefecture, shaken by the issue of the construction of a new U.S. military base, a female singer time slips to the time in the midst of the Vietnam War. What is the Henoko New Base Problem? What is the Vietnam War? What is America? What is Okinawa?
A short story in 9 chapters. Each chapter features famous songs from Japan, the United States and Okinawa.
Please read from Chapter 1.
The next morning, Naomi participated in a sit-in in front of the gate. Last night, as soon as she got back to the inn, she crawled into bed and fell asleep in tears.
It was hard to think about Tony and Jimmy. From that night to morning, she didn't see Genjiro again. The rooms they stayed in were separate, and before breakfast, Genjiro had gone somewhere. Text message from him had been informed that he had an early morning errand and could not be with her in the morning.
Then, she decided to go to the front of the Henoko construction gate by herself first and participate in the activity.
About twenty participants in the sit-in were there. The organizer of the sit-in asked singer Naomi to sing a song for the sit-in. He showed me a video of the song on his smartphone. The tone of the song and the lyrics were simple and she learned it quickly. She sang and the participants followed her singing.
Sang to participants on folding deck chairs in front of the gate of twenty people. The title was "座り込めここへ, Suwarikome kokoe! (Sit Down Here.)" The song was written and composed by IMAMURA Kazuo, but the lyrics have been modified by Henoko sit-in activists.
Sit down, here,
Sit down here
Cross your arms and get here
Sit down here
Shaken and crushed
When it's time to rebuild the lines,
Cross your arms and get here
Sit down here
Sit down, here,
Sit down here
Sing and Come Here
Sit down here
Shaken and crushed
When it's time to rebuild unity,
Sing and Come Here
Sit down here
(Singing by a singer who inspired the author to write this novel. )
Accompanied by Naomi's beautiful voice, the participants sang with full of energy. The atmosphere suddenly brightened. Naomi felt that her palpitations from last night had completely subsided.
Suddenly, old men walked up to her with scared faces. One of them was the face, Naomi looked familiar. She met him at a bar where locals gathered on the first night after coming to Henoko.
The man raised his voice and said to the participants, including Naomi.
"It's annoying to us, you people sitting in a place like this, you don't understand how we, the locals feel. We welcome the new base. If a new base is built in the future, many soldiers and their families will come here. Then they come to our store and drop us some money. What's wrong with that?"
All the participants fell silent as the momentum pushed them. They don't know what to say back.
But Naomi quickly came up with words to say back.
"You want to be able to make money, don't you? Soldiers might die on the battlefield if there is a war. Also, they may kill people on the battlefield and kill people who have nothing to do with war. If you can attract people like that and make money, that's what makes you happy."
Men's faces hardened by Naomi's words. This time they couldn't seem to find the words to say it back. Then, one of the participants in the sit-in, an elderly man about their age, stood up and said to them.
"This young lady is right, she's young, but she knows better. American soldiers are people who go to war. It is against humanity to make money by using human life as a stepping stone. A long time ago, when I was young, there was a Vietnam War, and many American soldiers went to die. On top of that, the U.S. soldiers killed a lot of innocent people in Vietnam. The U.S. military is an army that fights ridiculous wars. Can you be proud to be able to hang out with such army and make money?"
There was silence for a while, and the two men left with expressionless faces.
Soon after, a convoy of trucks came to the construction gate. As usual, police and riot police instruct them to leave in front of the gate. If they don't follow the instructions, riot police will pull their arms or carry them away. Sitting down, Naomi was yanked by the arm by two riot police officers and left the gate. Then, trucks loaded with construction materials entered the gate.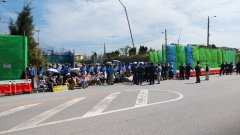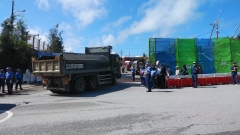 Around the gate, sit-in-protesters raised slogans and continued to shout against the construction of the new base.

After the morning sit-in was over, the participants moved to the tent and gathered. They finished morning work. Then, the elderly man who had supported Naomi spoke to her.
"You are wonderful," he said.
"Thank you very much for you help," Naomi said with a smile.
"Naomi-san, that was wonderful," Genjiro suddenly appeared.
"Genjiro," Naomi said in surprise.
" I was just watching near the gate, I arrived just as you were talking to the two men after the morning errand, but I was just watching because I didn't want to interrupt. Then, Mr. Hara here also supported you. Naomi-san, you were brave," Genjiro said very happily.
"Genjiro-kun, so she is the beautiful singer you were talking about. My name is Hara. I've known Genjiro-kun for a long time in Henoko. This time I came here to help him again," Hara said.
"Hara-san is our senior, besides, he's a former member of Beheiren," said Genjiro.
"Beheiren?" asked Naomi in an unfamiliar tone.
Hara said.
"Beheiren is an abbreviation for "Betonamu Heiwa Rengo (Vietnam Peace Coalition), an anti-war group that has been campaigning against the Vietnam War since the 1960s. We did anti-war demonstrations, but we also helped American soldiers desert."
"Desert?" surprised Naomi.
Genjiro said.
"Mr. Hara is a hero. He took care of the American soldiers who deserted from Yokota Air Base and fled to neutral countries. What a thing he did!" Genjiro said.
"Oh, they are victims who have been swayed by wrong national policies. If we don't just demonstrate but also take direct action from time to time, the world will not change and people will not be saved," Hara said proudly.
"How did you manage them to desert from Yokota Air Base?" asked Naomi suddenly.
"We passed on the information to Americans around there, come to "RUNAWAY," a bar 5 minutes walk from the base, then they can desert! I remember I could take care of a few people," Hara replied.
"RUNAWAY, it really means to desert," Genjiro said.
"But it's ridiculous to desert, isn't it, for a soldier?" Naomi said.
"Oh, I did it with a sense of dread because it would be a criminal act. But at the end of the Vietnam War, deserters were given amnesty even if they were caught. American public opinion was also disgusted with the Vietnam War, so they became friendly to deserters."
Naomi and Genjiro returned to the inn. They stared at each other.
"Naomi-san, I'm very happy that you have such a passion for the Henoko movement," Genjiro said, and then Naomi said.
"Those words came from what I witnessed last night."
She told Genjiro about last night at the Stars and Stripes bar.
"Hey, unbelievable," Genjiro said.
"I can't believe it, either, I can't believe it. I time slip," Naomi said.
"Well, I guess I believe it. You are serious. These are words that you wouldn't come up unless you had seen such a scene. But it's amazing, time slip back in time to the Vietnam War era," Genjiro understood that Naomi was telling the truth.
"But why did I go back in time like that?" It's kind of weird," Naomi said, feeling uncomfortable in her position.
"Maybe there was some kind of mission that made you travel through time and space," said Genjiro.
"Mission?" asked Naomi.
"There should be something you need to tell them when you meet the soldiers who are going to Vietnam? " Genjiro replied.
"But why should I, fifty years into the future, have to do that?" said Naomi.
"Well, I'm sure there are things that only a person from the future can do. Because if you are a person of the future, you know the consequence of events," said Genjiro.
"What's that?" asked Naomi.
"It's like the Vietnam War," Genjiro said.
"Hey, I want to know more about the Vietnam War, and maybe I need to tell the Americans about the Vietnam War," Naomi said.
"Yes, there's a good documentary about the Vietnam War. There's a video on the internet. Why don't you watch it? You can download the video of the program to your smartphone. To be able to watch it even if it crosses time and space."
The documentary program that Genjiro recommended was a program produced by an American television station more than two decades after the end of the Vietnam War. The 20-minute video was all in English, but it was also subtitled for broadcast on Japan, so Naomi could understand the details well.
Words such as the Indochina War, Godin Jem regime, Ho Chi Minh City, South Vietnam Liberation Front, Gulf of Tonkin Incident, North Vietnam bombings, Search and Destroy Depression, Tet Offensive, Defoliants, Dr. King, My Lai Village Massacre, Chicago riots, Pentagon Peipers, Fall of Saigon, Apocalypse Now, Platoon, Born on July 4, etc. An important and well-known song for a singer like Naomi, We Shall Overcome!
Surely this was the history of the Vietnam War!
To be continued to Chapter 8.